What to Look For in a 1911 Gun Holster: Concealed Carry, Open Carry, and More
1911s are great guns. Their timeless design has withstood every test the last 100-plus years have thrown at them. But a 1911 is only as good as its holster. Without a holster, you can't carry your gun around. And let's face it: we didn't buy a 1911 to leave it sitting in a case all the time. Whether it's for concealed carry, open carry, or any other reason, Southern Trapper is here to help you discover your next 1911 gun holster.
Choosing a Gun Holster for Your 1911: What Kind of 1911 Do You Have?
You need to start somewhere when choosing a gun holster for your 1911. And usually, you'll need to begin with the make and model of your firearm.
First, barrel length. For 1911s, the 5-inch "Government" barrel is most common. But plenty of manufacturers have produced "Commander" variants with shorter barrels - usually about 4 inches. Second, add-ons. Have you customized your 1911 with a light? What about adding a red dot optic? If you answered yes to either of these, you're going to need a holster to reflect that.
Finally, your gun's manufacturer can have a huge impact on which concealed carry gun holster you choose as well. The gun holster you use for a Dan Wesson 1911 may not be the same as one you need for an Ed Brown, or a Nighthawk. That's why at Southern Trapper, we can mold each holster to fit your specific firearm snugly.
Choosing a Gun Holster for Your 1911: Concealed Carry or Open Carry?
In addition to the type of 1911 you have, you'll also want to consider how you're going to use this gun holster. Do you need a concealed carry gun holster? One for open carry? A shoulder holster? They each have their own advantages and pitfalls. They include:
Concealed Carry: if you want to stay strapped without setting off any alarm bells, concealed carry is the way to go. They can connect to your belt at a variety of positions. Appendix carry using an inside-the-waistband (IWB) is one popular technique today.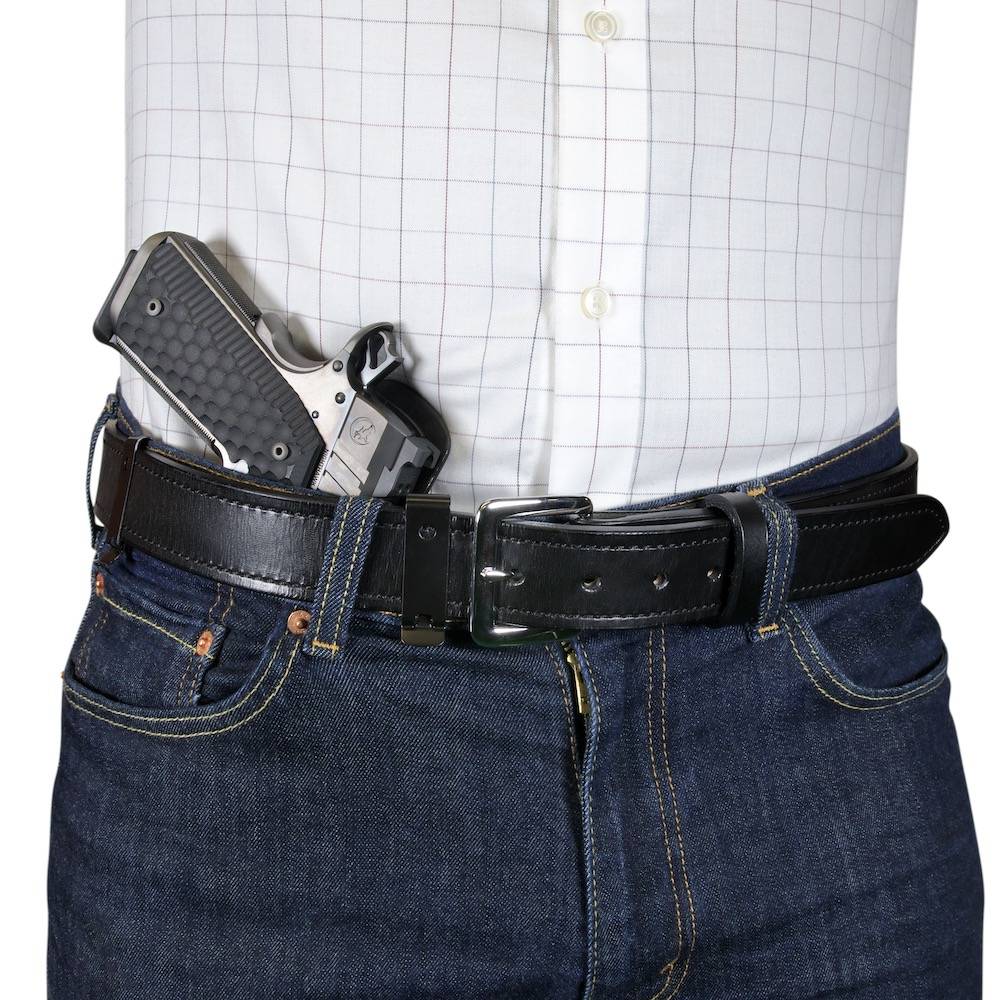 Open Carry Gun Holster: sometimes, you don't care who sees you carrying. Open carry holsters are helpful because they allow quick access to your firearm. That can shave seconds off your draw time. An open carry gun holster may also involve some kind of retention system to keep the gun from falling out of it.
Buying a 1911 Gun Holster For Sale
If you're looking at buying a concealed carry, open carry, or shoulder gun holster for your 1911, choose Southern Trapper. We specialize in crafting the perfect custom holsters from alligator leather, giving them a classy and refined style. What's more, we back them with a 100-year warranty. To learn more, check out our full selection of holsters here.
---
---
---