The Purse Holster is designed to securely carry a concealed firearm in a purse. The slim holster style is compact enough to fit in most handbags and purses. Each holster is made specifically for your firearm, so that the holster will fit snug like a glove. The barrel and trigger are fully covered with leather, reducing the threat of an accidental discharge. Available in multiple colors and styles, this purse holster is functional and attractive. Each holster is made from genuine cowhide leather that has been embossed and dyed to create the unique texture. The "Croc" is made from embossed cowhide, so it is not "real" crocodile. This compact holster does not come with a metal clip for IWB (inside-the-waistband) or OWB (outside-the-waistband) carry. Each holster comes with one sheet of velcro for you to cut and mount onto the interior of your purse and onto the exterior of your holster, to keep the holster in place while inside of your purse.
Summary of Features
Perfect Fit - Each holster is made for your specific firearm, including firearms that have been modified with red dot sights, lasers, lights, and threaded barrels

Secure - Sewn extra tight to provide excellent retention

Protects your firearm - Made from smooth leather to protect the finish on your firearm

Full Coverage - Each holster will fully cover the trigger guard and barrel, your firearm will not stick out of the bottom
Multiple Styles Available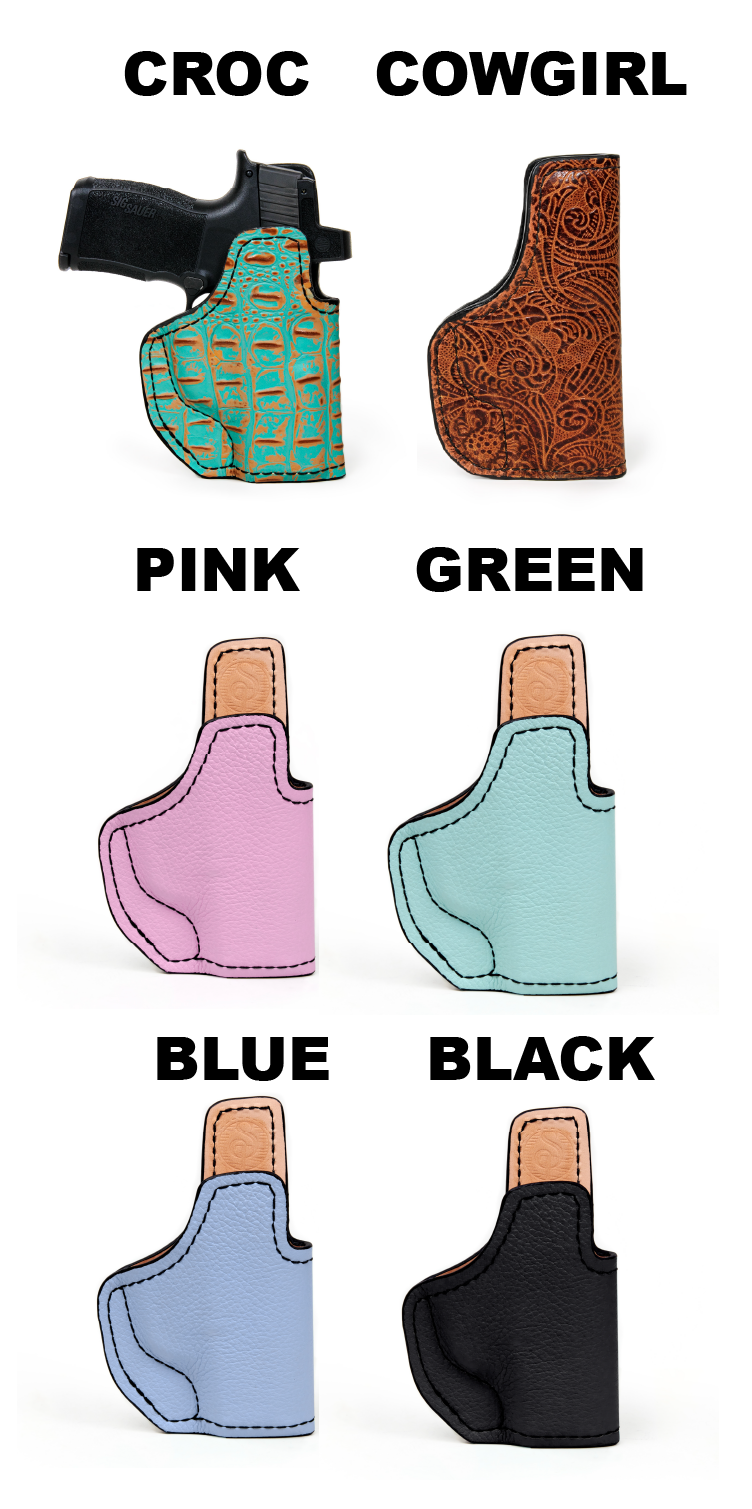 A thumb break is a piece of leather that extends from the front of the holster and snaps securely to the backside of the holster, preventing the firearm from being drawn from the holster while the thumb break snap is engaged. For example, a thumb break is most commonly used amongst law enforcement to keep their firearms inserted into the holster.
If you have a revolver, your holster will look different from the photos, which are holsters for semi-automatic firearms.
No, the "Croc" is made from embossed COWHIDE. The "Croc" is not made from "real" crocodile.
What is embossed leather? 
The leather we use is genuine cowhide leather that has been embossed (stamped) with the desired texture. The leather is real and the texture is stamped into the leather using a big machine.
Can I carry this on my hip? 
No, this holster does NOT come with a metal clip to attach to your belt. This holster is designed for you to securely carry the holster in your purse.
Does this attach to my purse? 
Yes, each holster comes with one sheet of velcro so that you can cut the velcro to size and attach the velcro to the interior of your purse and the exterior of your purse/handbag.
Will the Velcro Damage my purse or holster?
The velcro relies on a strong adhesive to mount onto the surface. When you remove the adhesive, damage may occur to the interior of your purse and/or the exterior of your holster.
Where can I buy more velcro? 
You can find many different types of velcro at your local hardware store or on Amazon. We do not sell additional sheets of velcro.
is this holster in stock?
No, each holster is made to order for each specific firearm. Our current lead time on purse holsters is 8-10 weeks.
A red dot sight is an optic that mounts on the top of your firearm. All firearms have "iron sights", which are used while aiming at your target. A red dot sight optic is a clear/see through viewfinder that places a red dot on your target. If you are wondering if you have a red dot sight optic, please select "Yes" for "Request phone call to confirm order", or call us at 843-501-2771.
We understand that there may be circumstance where you want to return a product. If you would like to return a product, simply contact our customer care department (Orders@TheSouthernTrapper.com) within 30 days of the ship date of your order. All returns are subject to the conditions listed here. In summary, products that are customized with initials, lights, lasers, and red dot sights are non-refundable. If there is an issue with how the holster fits, we will work with you by fixing or remaking the holster for you.
The Generational Guarantee - Leave Your Children Something To Fight Over
100-Year Warranty - 
Our philosophy is simple - Exceed our customers expectations no matter the cost. We'll never mass produce, we'll never sacrifice quality, and nothing will ever leave our shop unless we're certain it will last 100 years. Every piece of leather is built with pride and integrity to provide a lifetime of satisfaction. We're so confident in our talented craftsmen, durable materials, and outstanding designs, that we warranty them against workmanship for 100 years. This warranty applies to products used responsibly. Exposure to chemicals like chlorine, detergent, or conditioners that result in a breakdown of the material or damage caused by misuse (dog chewing, water exposure, broken zippers, or road rash, etc.) will void the 100 year warranty. 
If your product does not hold up in the conditions it is supposed to, we'll fix it or replace it. If for some reason we can't fix it, we'll give you store credit. You can contact us by emailing Orders@TheSouthernTrapper.com. 
To receive our 100-Year Warranty, you must register your product with our Warranty Department within 30 days of receiving it in the mail. Click here to register your product. 
30-Day Money Back Guarantee - 
When you order a product that has NOT been customized with initials, laser/light/red dot sights, or different colors, you'll receive a 30-day money back guarantee. If the item you receive is not what we described it as, please contact us within 30 days and as long the item is in like-new condition, we'll refund or exchange the item for you. Please contact us by email at Hello@TheSouthernTrapper.com and attach photos with your order number and describe the situation to us, and we'll get back to you quickly. To fit properly, our products require a break-in period before they will function as intended. Here are instructions on how to break in a leather holster. Items that have been customized or custom made cannot be exchanged, returned, or refunded for store credit. Examples of "customized" orders includes: products that have been customized with initials, embossments, lights, lasers, red dot sights and other available customizations. This guarantee does not cover unintentional customer mistakes, such as choosing the wrong gun, the wrong size or color, or the wrong hand orientation. 
Contact Us - Please either email us or use the contact form below if you have any questions, concerns, or comments.