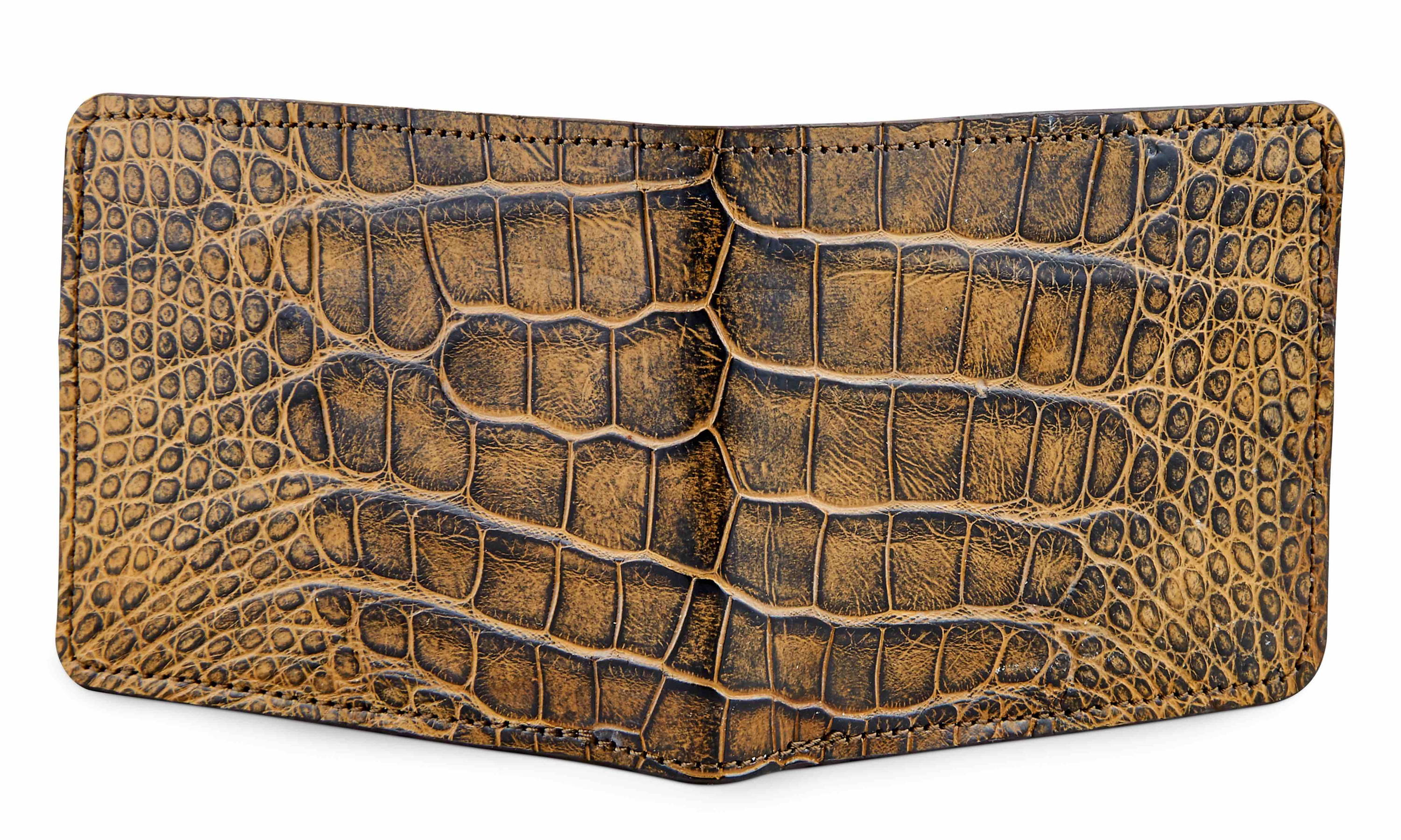 Made from wild-caught alligators, this genuine alligator wallet is durable, sleek and handmade in the USA by our Master Leathermen. This exquisite artisan wallet is backed by our unbeatable 100-year warranty and each alligator is hand-dyed one of our unique signature colors. Test drive this wallet for 30-days and we will buy it back from you if it does not exceed your expectations. The leather interior is hand cut from top quality cowhide leather. The cowhide interior can be upgraded to match the hand-dyed alligator exterior. The interior of the pockets are lined with RFID-blocking fabric to protect your credit cards from thieves. Each edge is painted by hand to prevent the edges from separating.
Once broken in, this alligator wallet will comfortably hold 15-20 cards (2-3 cards per slot) as well as additional cards in the hidden compartments on either side of the wallet (total of two hidden compartments). The water-resistant, semi-gloss finish on our luxurious alligator skin wallets elevate an everyday item into a timeless piece of art.
For an extra special touch, personalize your wallet with complimentary initials (choose up to three letters). The ¾ inch Times New Roman letters are embossed on the bottom right hand corner of the wallets exterior. We do not hand paint gold letters and we do not emboss numbers. Personalized wallets will also ship within 48 hours.
The alligator skin wallet measures 8.5"L x 3.25" W while open and 4.5"L x 3.25" W while closed. There is one 3" wide cash compartment and no divider. We do not offer clear plastic ID windows in our bifold wallets.
Watch The Story of The First Mate
"My First Mate made a mistake that would change Southern Trapper forever. He thought it would be funny to play a prank on me, but he accidentally knocked over a bottle of black dye onto a light tan alligator skin that I had just finished dying. I must have dropped every cuss word in the book. He reached for a cloth to soak up the dye before it quickly spread across the entire alligator, but it was too late. The black dye had left its mark. A handsome mark with deep character that I quickly began to like. The contrasting tones brought out the texture and masculinity of the alligator, and I knew he was onto something great. Instead of asking him to scrub the poop deck, I asked him to fire up the sewing machine and make a few wallets. His mistake earned him a spot in my Legendary Tales collection, meet The First Mate. Watch the story unfold in the video." - Capt Bligh
Our philosophy is simple - Exceed your expectations no matter the cost. We'll never mass-produce, we'll never sacrifice quality, and nothing will ever leave our shop unless we're certain it will last 100 years. Every piece of leather is built with pride and integrity to provide a lifetime of satisfaction. We're so confident in our talented craftsmen, durable materials, and outstanding designs, that we warranty them against workmanship for 100 years.
When your guard is down, this wallet has you covered. Our wallets are lined with an advanced metal fabric that prevents radio waves from penetrating the wallet walls. Our highly conductive RFID-blocking wallets are made from the same technology used to protect astronauts in space.
This wallet has three compartments on each side of the wallet, with two hidden compartments for extra cards behind the slots. Once broken in, each compartment will hold up to 4 cards, allowing you to carry up to 32 cards comfortably. For a bifold wallet, this wallet has outstanding functional capacity.
Leather With "Gentleman-like Traits...

Made from the finest genuine leather, this wallet is full of character, like many of the gentlemen we proudly serve. The soft and durable leather makes for a comfortable and reliable wallet. No more frayed edges or torn seams, this wallet is ready to outlast all that has come before.
Generationally Fought Over...
There are few things that you'll never let go of or forget, such as memories and time-proven leather. We hope you use our soft and durable leather goods to create memories in the wild that you'll carry with you everywhere you go. Memories of times spent smoking venison or wild-hog bbq with your family and ole hunt'n buddies. Often times, it's memories like these that are harder to procure than the wild hides themselves.
We coat our wallets with a non-toxic damage-resistant sealant to increase its longevity. The marine grade resistant finish provides protection against rain, sleet, and snow. You'll fall in love with this leather wallet, which ages with a natural patina that will enhance with wear.
Environmentally Responsible...
As stewards of the land, we share your same values for proficiently using all byproducts in humane and ethical ways. Our wild hides are sustainably sourced and humanely harvested across the country from hunters and trappers. The texture of our wallets are as rich in character as the landscapes these animals are native to, and we're committed to ensuring their flourishing future.
Made With Pride in the USA...
We never sacrifice quality and never mass produce - Nothing profoundly satisfying happens overnight, including our wallets. Our team of master craftsmen delicately handcraft each wallet entirely by hand. While you may think we're out fishing, we're actually meticulously perfecting your wallet to ensure it provides generational satisfaction. Your grandkids will enjoy it as much as you did.
Field tested by Dads, Cowboys, Professional Athletes, Game Wardens, and by our nation's War Hero's, our collections will outlast and outperform all. Like a great hunting dog, our wallets are there when you need them. We've spent months in development by spending weeks in the duck blind, days in deer stand, and weekends on the river, all to ensure each product will withstand a lifetime of abuse.
Each card compartment will comfortable hold 2-3 credit cards each. With 3 card compartments and one hidden compartment behind each side, our wallets will comfortably hold a total of 15-20 credit cards.
When you request to personalize a wallet, we will emboss your initials on the exterior of the wallet in the bottom right corner.
All wallet orders will ship within 24 hours, even if you request to have your initials embossed. We do not ship on Saturday and Sundays. We offer free USPS First Class (4-5 Day) shipping, or you can choose an expedited service through USPS or UPS.
You can return your unused wallet for any reason within 30 days of purchasing. If you receive the wallet as a gift, we will honor the return policy without a receipt. Personalized wallets cannot be returned or exchanged, however they are still covered under our 100-year warranty.
The Generational Guarantee - Leave Your Children Something To Fight Over
100-Year Warranty - 
Our philosophy is simple - Exceed our customers expectations no matter the cost. We'll never mass produce, we'll never sacrifice quality, and nothing will ever leave our shop unless we're certain it will last 100 years. Every piece of leather is built with pride and integrity to provide a lifetime of satisfaction. We're so confident in our talented craftsmen, durable materials, and outstanding designs, that we warranty them against workmanship for 100 years. This warranty applies to products used responsibly. Exposure to chemicals like chlorine, detergent, or conditioners that result in a breakdown of the material or damage caused by misuse (dog chewing, water exposure, broken zippers, or road rash, etc.) will void the 100 year warranty. 
If your product does not hold up in the conditions it is supposed to, we'll fix it or replace it. If for some reason we can't fix it, we'll give you store credit. You can contact us by emailing Orders@TheSouthernTrapper.com. 
To receive our 100-Year Warranty, you must register your product with our Warranty Department within 30 days of receiving it in the mail. Click here to register your product. 
30-Day Money Back Guarantee - 
When you order a product that has NOT been customized with initials, laser/light/red dot sights, or different colors, you'll receive a 30-day money back guarantee. If the item you receive is not what we described it as, please contact us within 30 days and as long the item is in like-new condition, we'll refund or exchange the item for you. Please contact us by email at Hello@TheSouthernTrapper.com and attach photos with your order number and describe the situation to us, and we'll get back to you quickly. To fit properly, our products require a break-in period before they will function as intended. Here are instructions on how to break in a leather holster. Items that have been customized or custom made cannot be exchanged, returned, or refunded for store credit. Examples of "customized" orders includes: products that have been customized with initials, embossments, lights, lasers, red dot sights and other available customizations. This guarantee does not cover unintentional customer mistakes, such as choosing the wrong gun, the wrong size or color, or the wrong hand orientation. 
Contact Us - Please either email us or use the contact form below if you have any questions, concerns, or comments. 
Customer Reviews
Write a Review
Ask a Question
12/30/2021
Donna F.

United States
Wallet for Dad
Hands down the best wallet my 72 year old father has ever had, he has completed it every time he pulls it out and puts it back in his pocket, can't wait to get my pocket holster that is on order!
12/28/2021
Al B.

United States
Gorgeous Wallet
Another beautiful wallet from Southern Trapper. I have several and all are true works of art…excellent craftsmanship, high quality, and items to be treasured for years to come.
12/28/2021
jessica g.

United States
best wallet ever!
The item is amazing and was the perfect gift!! I am so happy with how fast the shipment came in and I was able to give the gift just in time for Christmas. I will definitely be purchasing more items!
12/27/2021
Jon A.

United States
First Mate Alligator Skin Wallet
Simply stated, I could not be happier with the wallet. Sometimes it seems that certain leather goods are not as nice as they appear to be when they are viewed online. That was not the case with the First Mate wallet I received on Christmas. It is just beautiful, and I could not be more pleased.
11/17/2021
David R.

United States