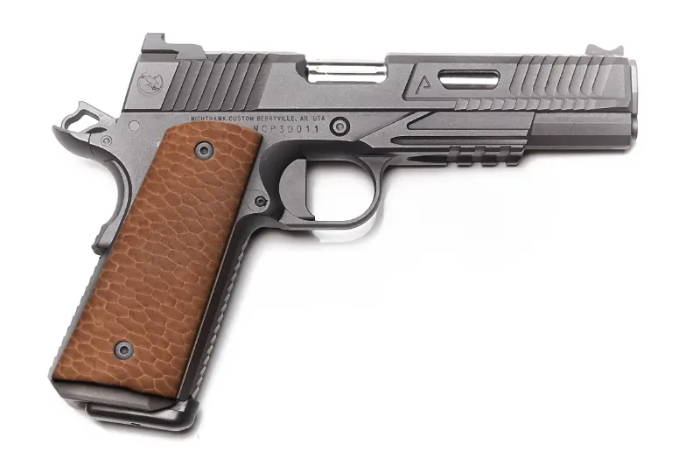 Genuine Exotic Leather Gun Grips
Inventory Update - Our alligator gun grips are made to order with a 3-4 week lead time.
Our genuine beaver tail leather gun grips are made from wild North American beaver tails. The exotic leather gun grips are incredibly unique and very durable. Each grip is hand dyed and burnished with wax, to age with a handsome natural patina over time. Sealed with a natural water resistant coating, these leather gun grips are designed to withstand anything mother nature throws your way. Each exotic gun grip is entirely made to order and are available for full size and compact 1911's. After you place your order, a member of our team will call you to confirm the make and model of your firearm, as well as whether you would like a traditional or magwell style grip. We will answer any other questions or concerns regarding your order during the phone call.
The Generational Guarantee - Leave Your Children Something To Fight Over
100-Year Warranty -
Our philosophy is simple - Exceed our customers expectations no matter the cost. We'll never mass produce, we'll never sacrifice quality, and nothing will ever leave our shop unless we're certain it will last 100 years. Every piece of leather is built with pride and integrity to provide a lifetime of satisfaction. We're so confident in our talented craftsmen, durable materials, and outstanding designs, that we warranty them against workmanship for 100 years. This warranty applies to products used responsibly. Exposure to chemicals like chlorine, detergent, or conditioners that result in a breakdown of the material or damage caused by misuse (dog chewing, water exposure, broken zippers, or road rash, etc.) will void the 100 year warranty. Our warrany covers issues that arise from workmanship such as thread coming loose or leather ripping due to flawed worksmanship. Warranty does not cover over stretching or excessive break in or use.
To receive our 100-Year Warranty, you must register your product with our Warranty Department within 30 days of receiving it in the mail. Click here to register your product.
30-Day Money Back Guarantee -
When you order a product that has NOT been customized with initials, laser/light/red dot sights, or different colors, you'll receive a 30-day money back guarantee. If the item you receive is not what we described it as, please contact us within 30 days and as long the item is in like-new condition, we'll refund or exchange the item for you. Please contact us by email at Hello@TheSouthernTrapper.com and attach photos with your order number and describe the situation to us, and we'll get back to you quickly. To fit properly, our products require a break-in period before they will function as intended. Here are instructions on how to break in a leather holster. Items that have been customized or custom made cannot be exchanged, returned, or refunded for store credit. Examples of "customized" orders includes: products that have been customized with initials, embossments, lights, lasers, red dot sights and other available customizations. This guarantee does not cover unintentional customer mistakes, such as choosing the wrong gun, the wrong size or color, or the wrong hand orientation.
Contact Us - Please either email us or use the contact form below if you have any questions, concerns, or comments.
Customer Reviews
Write a Review
Ask a Question
08/11/2021
jacob k.

United States
Perfectly Made!
These grips are so perfectly made, the beaver skin looks like it is just part of the wood grips. Very well made, nicely finished, and quite unique. Had a small problem with my order and it was solved right away and without question. Great customer service and great product! I'll be back to buy more.
Great looking grips.
Im very pleased again with my purchase from Southern Trapper. My beaver tail grips look great. Thank You Again.
Looks great on my AO 1911
The grips look great on my Auto Ordnance 1911. Piece of cake to instal. Customer service was excellent.
Super cool and easy to instal
These beaver grips are really nice. I have never seen beaver before but they look awesome on my Cabot. Thanks!