The Last Chance is a sleek and durable leather pocket holster, that will rise to the occasion when you need it. Made from hand selected genuine cowhide leather, this holster will handle any situation you find yourself in. If you're looking for an everyday carry holster that is light weight & durable, you've found it. Over time, our holsters are enhanced with wear and form to the shape of your body, for an everlasting leather investment.
How To Order
Please use the drop down menu to select your firearm make and model. You will be able to modify your holster to be made with a laser/light, red dot sight, thumb break, or have it lined with soft suede. A red dot refers to an optic on the slide, not a rail-mounted or grip laser. You will also be able to add a matching single mag holder or gun belt by using the drop down menu. If you have any concerns while placing an order please include your questions or comments in the notes section. You can request a phone call to confirm the details of your order if you wish. For those that prefer to order their holster over the phone, please call us at 843-501-2771.
The North Pole is not the only place with a magical workshop - Discover the tale of Southern Trapper and the magical craftsmen behind it.
99.1% Customer Satisfaction
"Fit is tight and right..This piece will last forever.They delivered what was promised.I have several of these and each has got perfectly..You get what you pay for and more!"
- Jeffery of Indianapolis, IA


"Ordered this holster for my M&P Shield, and have to say the fit is great. The gun fit was just tight enough that I did follow the break in instructions but halved the amount of time. It draws easily but the gun still "locks" itself into the holster reassuringly. There's no slop, the holster doesn't move around, and best of all it's not from China."
-Gordon of Aiken, SC

"Good pocket holster. This is my second holster from Southern Trapper and the have both been excellently crafted!"
- John of Wasilla, AK

Our philosophy is simple - Exceed your expectations no matter the cost. We'll never mass-produce, we'll never sacrifice quality, and nothing will ever leave our shop unless we're certain it will last 100 years. Every piece of leather is built with pride and integrity to provide a lifetime of satisfaction. We're so confident in our talented craftsmen, durable materials, and outstanding designs, that we warranty them against workmanship for 100 years.
This holster is designed to fit comfortably in your front pocket. The rawhide exterior adds grip and traction for a controlled draw, while the soft cowhide interior provides a smooth motion.
Comfortably draw and re-holster the firearm...  
Made specifically for each firearm, our holsters are individually built for each pistol, to ensure that each holster has excellent retention and fits like a glove. During the fitting process, your holster will be molded with a hydraulic press to form the shape of your firearm - your holster will fit like a glove.  
Leather with "Gentleman-like traits"...
Our holsters are soft & strong, yet quietly ready for anything. We pride ourselves on offering undoubtedly reliable holsters that are comfortably casual, even while under pressure. The water resistant finish provides protection against rain, sleet, and snow. Our leather holsters age with a natural patina and will enhance with wear.  
The reinforced opening makes it easier to re-holster the firearm under normal and stressful situations. You'll be able to safely and confidently re-holster your firearm, without the holster mouth obstructing your access.
Wildlife Conservation Program... 
Our holsters tell stories of majestic wild animals that were harvested sustainably through national wildlife programs. We're committed to supporting nonprofit groups that improve wildlife conditions and advocate for nature. At checkout, you'll choose a conservation group to donate 1% of the order toward - together we'll make sure our beautiful world continues to flourish for future generations.
Never sacrifice quality and never mass produce...
Nothing profoundly satisfying happens overnight, including our holsters. Our team of master craftsmen delicately handcraft each holster entirely by hand. While you may think we're out fishing, we're actually meticulously perfecting your holster to ensure it provides generational satisfaction. Your grandkids will enjoy it as much as you did. Our current lead time is about 5-6 weeks until your holster ships.
Field tested by Dads, Cowboys, Professional Athletes, Game Wardens, and by our nation's war hero's, our collections will outlast and outperform all. Like a great hunting dog, our holsters are there when you need them. We've spent months in development by spending weeks in the duck blind, days in deer stand, and weekends on the river, all to ensure each product will withstand a lifetime of abuse.
---
The Generational Guarantee - Leave Your Children Something To Fight Over
100-Year Warranty - 
Our philosophy is simple - Exceed our customers expectations no matter the cost. We'll never mass produce, we'll never sacrifice quality, and nothing will ever leave our shop unless we're certain it will last 100 years. Every piece of leather is built with pride and integrity to provide a lifetime of satisfaction. We're so confident in our talented craftsmen, durable materials, and outstanding designs, that we warranty them against workmanship for 100 years. This warranty applies to products used responsibly. Exposure to chemicals like chlorine, detergent, or conditioners that result in a breakdown of the material or damage caused by misuse (dog chewing, water exposure, broken zippers, or road rash, etc.) will void the 100 year warranty. 
If your product does not hold up in the conditions it is supposed to, we'll fix it or replace it. If for some reason we can't fix it, we'll give you store credit. You can contact us by emailing Orders@TheSouthernTrapper.com. 
To receive our 100-Year Warranty, you must register your product with our Warranty Department within 30 days of receiving it in the mail. Click here to register your product. 
30-Day Money Back Guarantee - 
When you order a stocked item (wallet, sling, or case, ect) you'll receive a 30-day money back guarantee. If the item you receive is not what we described it as, please contact us within 30 days and as long the item is in like-new condition, we'll refund or exchange the item for you. Please contact us by email at Orders@TheSouthernTrapper.com and attach photos with your order number and describe the situation to us, and we'll get back to you quickly. To fit properly, our products require a break-in period before they will function as intended. Here are instructions on how to break in a leather holster. Non-stocked items (belt, holster, or other custom made items, etc.) cannot be exchanged, returned, or refunded for store credit. This guarantee does not cover unintentional customer mistakes, such as choosing the wrong gun, the wrong size or color, or the wrong hand orientation. 
Contact Us - Please either email us or use the contact form below if you have any questions, concerns, or comments. 
Customer Reviews
Write a Review
Ask a Question
01/22/2021
Les K.

United States
Good stuff
As advertised. Had great products from them this was no different great for my Kimber 9 concealed when I can just toss it I in my pocket or shove it between my car seat while driving of to keep it near me in the house, instead of using my regular holster
01/22/2021
Timothy S.

United States
01/12/2021
Alexander S.

United States
Best Pocket Holster
Excellent. Super convenient and top notch quality
01/05/2021
ulysses w.

United States
Not as advertised
The last chance pocket holster isn't advertised with crooked boned lines drawn on it. I was expecting the black leather pocket holster as advertised on you website for my Korth mongoose revolver.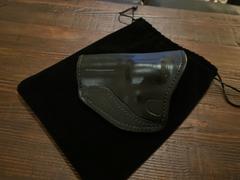 01/06/2021
Southern Trapper
Hello Ulysses, thank you for sharing your feedback. The reason why your holster does not look like the product image is because your holster was made for a revolver, while the product image is of a semi automatic pistol. Your revolver is shaped very differently than the Glock holster in the product photo. As the the lines on your holster, those lines are hand boned into the leather to share the same lines that are part of your unique revolver. - Capt Bligh
12/27/2020
Marissa C.

United States