Genuine Leather Rifle Sling
This top grade leather rifle sling is made from American cowhide and is the ideal leather rifle sling for hunting and shooting at the range. Our leather rifle slings are in stock and will ship within 48 hours with the initials that we will emboss onto the sling, per your request. Choose up to three letters in the order first name, middle name, last name. The ¾ inch Times New Roman letters are embossed above the thumb hole (see photo above). We do not hand paint gold letters and we do not emboss numbers. Express shipping rates are available on checkout page.
This comfortable leather rifle sling is made with a thumb hole to enable you to carry the rifle sling comfortably and confidently. Our leather rifle slings are made entirely by hand in the USA and come with an unbeatable 100-year warranty. Each rifle sling comes with 1" wide black steel locking swivels that mount to any swivel stud. Our all-weather rifle slings are built to withstand rain, sleet, and snow.
Whether you carry a rifle for work or in the fields while on a hunt, our rifle slings have your back. Made entirely by hand using the highest quality leather, each sling is unique and no two are alike. If you're hunting down the perfect sling for a gift, or for your trusted long rifle, we've got you covered. We've taken every aspect of our slings into consideration and that's why each sling comes with a thumb hole to securely and comfortably carry your rifle. Our rifle slings are field tested and designed to withstand any condition you'll find yourself in.
Dimensions - Our Slings are fully adjustable from 28" to 34" and are made for a 1" swivel attachment, which is included. Initials are embossed directly above the thumb hole. The correct order of letters is: first initial, middle initial, last initial. We do not monogram.
The North Pole is not the only place with a magical workshop - Discover the tale of Southern Trapper and the magical craftsmen behind it.
99.1% Customer Satisfaction
SIMPLY A GREAT AND PERFECT PRODUCT
"Received my personalized Big Boss sling today and it is perfect! High quality leather, fully adjustable (I am 6'6"), very comfortable and came personalized as well. Although this is my first purchase, I am sure many more will follow"
- Dan of Altoon IA

Comfortable And Good Looking
"I bought this for my Henry and it matches the wood stock nicely. Feels like nice leather and won't break if you're rough on slings"
-Jamie of San Antonio TX

Our philosophy is simple - Exceed your expectations no matter the cost. We'll never mass-produce, we'll never sacrifice quality, and nothing will ever leave our shop unless we're certain it will last 100 years. Every piece of leather is built with pride and integrity to provide a lifetime of satisfaction. We're so confident in our talented craftsmen, durable materials, and outstanding designs, that we warranty them against workmanship for 100 years.
The convenient thumb hole opening makes it easier to carry your firearm under normal and stressful conditions. You'll be able to safely and comfortably carry your firearm, without having to constantly readjust the firearm on your shoulder, allowing your focus to stay in the hunt.
Leather with "Gentleman-like traits"...
Our leather slings are soft & strong, yet quietly ready for anything. We pride ourselves on offering undoubtedly reliable leather rifle slings that are comfortably casual, even while under pressure. The water resistant finish provides protection against rain, sleet, and snow. Our leather slings age with a natural patina and will enhance with wear.  
Never sacrifice quality and never mass produce...
Nothing profoundly satisfying happens overnight, including our slings. Our team of master craftsmen delicately handcraft each sling entirely by hand. While you may think we're out fishing, we're actually meticulously perfecting your sling to ensure it provides generational satisfaction. Your grandkids will enjoy it as much as you did.
Field tested by Dads, Cowboys, Professional Athletes, Game Wardens, and by our nation's war hero's, our collections will outlast and outperform all. Like a great hunting dog, our slings are there when you need them. We've spent months in development by spending weeks in the duck blind, days in deer stand, and weekends on the river, all to ensure each product will withstand a lifetime of abuse.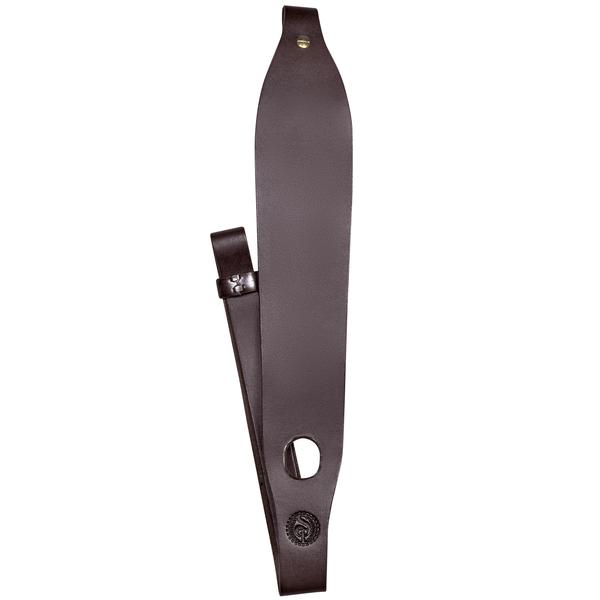 The Generational Guarantee - Leave Your Children Something To Fight Over
100-Year Warranty - 
Our philosophy is simple - Exceed our customers expectations no matter the cost. We'll never mass produce, we'll never sacrifice quality, and nothing will ever leave our shop unless we're certain it will last 100 years. Every piece of leather is built with pride and integrity to provide a lifetime of satisfaction. We're so confident in our talented craftsmen, durable materials, and outstanding designs, that we warranty them against workmanship for 100 years. This warranty applies to products used responsibly. Exposure to chemicals like chlorine, detergent, or conditioners that result in a breakdown of the material or damage caused by misuse (dog chewing, water exposure, broken zippers, or road rash, etc.) will void the 100 year warranty. 
If your product does not hold up in the conditions it is supposed to, we'll fix it or replace it. If for some reason we can't fix it, we'll give you store credit. You can contact us by emailing Orders@TheSouthernTrapper.com. 
To receive our 100-Year Warranty, you must register your product with our Warranty Department within 30 days of receiving it in the mail. Click here to register your product. 
30-Day Money Back Guarantee - 
When you order a stocked item (wallet, sling, or case, ect) you'll receive a 30-day money back guarantee. If the item you receive is not what we described it as, please contact us within 30 days and as long the item is in like-new condition, we'll refund or exchange the item for you. Please contact us by email at Orders@TheSouthernTrapper.com and attach photos with your order number and describe the situation to us, and we'll get back to you quickly. To fit properly, our products require a break-in period before they will function as intended. Here are instructions on how to break in a leather holster. Non-stocked items (belt, holster, or other custom made items, etc.) cannot be exchanged, returned, or refunded for store credit. This guarantee does not cover unintentional customer mistakes, such as choosing the wrong gun, the wrong size or color, or the wrong hand orientation. 
Contact Us - Please either email us or use the contact form below if you have any questions, concerns, or comments. 
Customer Reviews
Write a Review
Ask a Question
11/24/2020
Mike L.
United States
Excellent Product
My experience with Southern Trapper was an excellent one. I had a unique situation that Southern Trapper did not provide, after explaining the situation Southern Trapper made it possible to fulfill my request. I did not order an expensive item but they went above and beyond by ordering additional equipment to make it happen and I am forever grateful. I received the product a couple of days after the equipment arrived at their shop, the packaging was above and beyond what I expected, the box was a beautiful Southern Trapper box and the sling was wrapped in a velvet style bag. The sling itself was perfect, the embossing was second to none, and was exactly what I wanted. When my girlfriend opened it she was in tears, the team at Southern Trapper went above and beyond to accommodate me and deliver and top quality product!!!!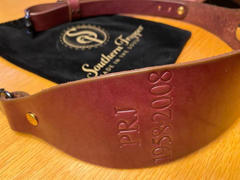 10/12/2020
Kelsie P.
United States
Quality work that lasts!
I bought the gun sling for my husband as a Christmas present. But its so pretty and I know he'll love it, it might be hard for me to wait till Christmas! Everyone that I was in contact with at Southern Trapper was extremely helpful and made sure that my order was correct, notified when they were getting ready to ship and then again when it had shipped. I will definitely be doing business with them again!
09/25/2020
Stanley S.
United States
Big Boss Rigle Sling
Excellent materials/ and craftsmanship is top quality.
08/28/2020
Sandra
United States
VERY pleased with the quality
A few months ago my son told me, "If you need any ideas for my birthday I need a good quality leather sling for on of my rifles', nothin fancy." So I did a search and found Southern Trapper. I found the sling I thought he would like and ordered it. Yesterday was his birthday and He is VERY pleased with the quality. It looks awesome on his rifle. Thank You and keep up the good work.
Job Well Done
I received my Big Boss sling and it is very well made, finished and will no doubt last 100 years. So I have to rate it as a 5/5 for sure. Personally, the only thing I'd change is the addition of a suede lining with an attractive stick along the edge. The packaging was unbelievable and of the best quality I've seen. However I'd prefer a padded envelope in the mail and a reduced price, but this is a review of the sling not a critique of the box. Just my 2 cents worth. Buy with confidence this company delivers quickly and as guaranteed!!