Save 25% OFF Everything In The Entire Store This "VIP Party Special" is guaranteed to make you a hit at this year's office party or family gathering. You can shop this deal multiple times and mark EVERYONE off your Christmas shopping list at once. Only for today, you will be able to use promo code "VIP" on the CART PAGE (not checkout page) to save 25% off of everything in our store. Order directly online by using promo code " VIP" or us a call at 843-501-2771 to place an order with us over the phone. If you need some time to figure out colors for everyone, go ahead and order the deal and let us know within a week what you'd like. On top of today's deal, you can also buy a Craftsmen a craft beer when you add today's "deal" to cart by clicking "Buy With 100-Year Warranty".
See the image below to help you find the discount code field on the CART page.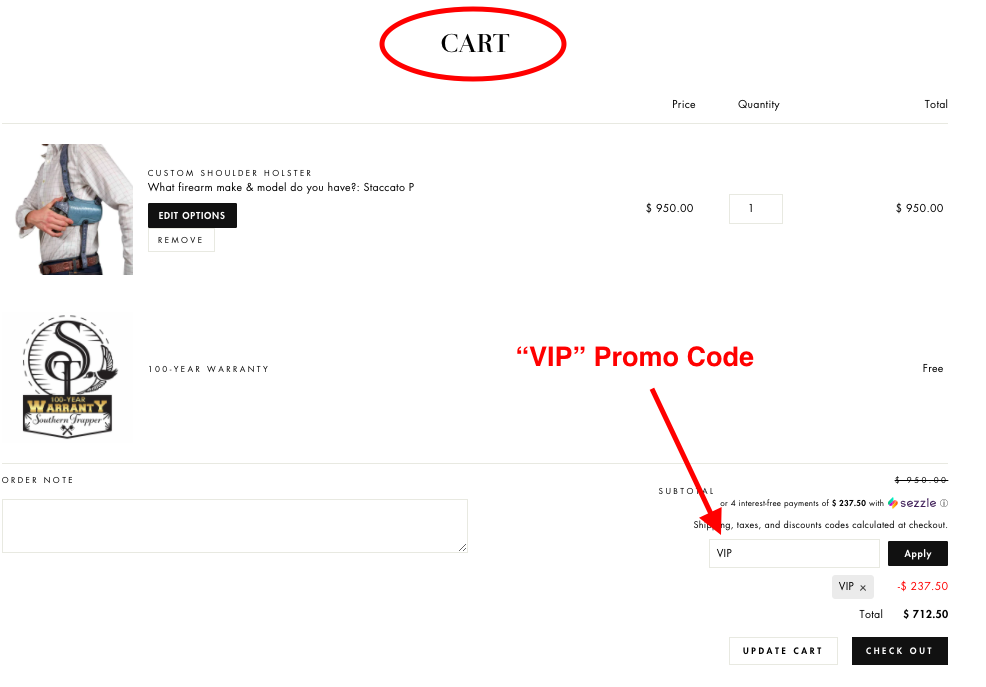 What is "Buy A Craftsmen A Craft Beer"?
When you add today's deal to cart, we will use this money to buy craft beers for the craftsmen. Yes, they will drink them during work. No, they will not spill them on your holiday gifts. Yes, we recycle our cans.
What Promo Code Do I use?
That's a great question. You will need to use "VIP" on the CART PAGE.
What is the difference between Cart and Checkout Page?
The Cart page says "Cart" at the top of the screen. The Checkout Page is where you will type in your shipping address. You will need to apply the discount code on the CART PAGE.
Will you have better deals on Black Friday/Cyber Monday
No, you will not find a better deal than this.
Do I need to order all at once or can I order this morning and this afternoon?
You can place as many separate orders as you wish. You do not need to place one gigantic order, you can place 10 small orders if you choose.
Can I share this Promo Code With my Friends?
It will be a very awkward conversation when Capt Bligh calls them to confirm their order and he asks how they learned about the "VIP" promo code.
Can I wait until tomorrow to place my order?
No, the discount code expires at Midnight tonight. You can place an order tomorrow, but the discount code will not work.
Last year one of our VIP's sent us 15 lbs of donuts. We still thank him for it to this day. However, my wife still wishes she hadn't seen me eat that many donuts in 1 day.
The Generational Guarantee - Leave Your Children Something To Fight Over
100-Year Warranty - 
Our philosophy is simple - Exceed our customers expectations no matter the cost. We'll never mass produce, we'll never sacrifice quality, and nothing will ever leave our shop unless we're certain it will last 100 years. Every piece of leather is built with pride and integrity to provide a lifetime of satisfaction. We're so confident in our talented craftsmen, durable materials, and outstanding designs, that we warranty them against workmanship for 100 years. This warranty applies to products used responsibly. Exposure to chemicals like chlorine, detergent, or conditioners that result in a breakdown of the material or damage caused by misuse (dog chewing, water exposure, broken zippers, or road rash, etc.) will void the 100 year warranty. 
If your product does not hold up in the conditions it is supposed to, we'll fix it or replace it. If for some reason we can't fix it, we'll give you store credit. You can contact us by emailing Orders@TheSouthernTrapper.com. 
To receive our 100-Year Warranty, you must register your product with our Warranty Department within 30 days of receiving it in the mail. Click here to register your product. 
30-Day Money Back Guarantee - 
When you order a stocked item (wallet, sling, or case, ect) you'll receive a 30-day money back guarantee. If the item you receive is not what we described it as, please contact us within 30 days and as long the item is in like-new condition, we'll refund or exchange the item for you. Please contact us by email at Orders@TheSouthernTrapper.com and attach photos with your order number and describe the situation to us, and we'll get back to you quickly. To fit properly, our products require a break-in period before they will function as intended. Here are instructions on how to break in a leather holster. Non-stocked items (belt, holster, or other custom made items, etc.) cannot be exchanged, returned, or refunded for store credit. This guarantee does not cover unintentional customer mistakes, such as choosing the wrong gun, the wrong size or color, or the wrong hand orientation. 
Contact Us - Please either email us or use the contact form below if you have any questions, concerns, or comments.