Black Crocodile Belt
---
Available inventoy - We do not have any belts in stock. All belts will be made to order on a four week lead time.
Our crocodile belts are handmade with pride in the USA from the very best materials. There is nothing special about buying a mass-produced belt, which is why our Master Leathermen make each belt entirely by hand. When you order a belt, you will work directly with our Chief Happiness Officer, who will be your best friend at our workshop. His sole purpose is to make sure that our work exceeds your expectations and that it fits you perfectly.
Our process for making crocodile belts is unique, which is why you won't find a crocodile belt like ours in stores. All of our crocodile belts are made from genuine crocodile skins, which are hand selected by our company founder, Capt Bligh. He works directly with the tannery to ensure that each crocodile skin meets his quality standards. Our in-house Picasso creates unique dye formulas and hand paints each crocodile skin. Our Master Leathermen inspect every centimeter of material and cut each piece to size to fit your waist size perfectly. Up close, you will see that every stitch falls perfectly in line, like soldiers marching into war. Lastly, every edge is beveled, sanded, and edge painted to perfection. Before anything leaves our shop, it is inspected by our Chief Happiness Officer to ensure that it represents our very best work.
You will not find this level of integrity, craftsmanship, and quality in any other belt because it is unbelievably time consuming and expensive. We are unlikely our greedy competitors who choose to use inexpensive materials and produce their belts as quickly as possible. We do not chase profits, we chase perfection.
When you choose Southern Trapper, you are not buying "just a belt". You are choosing to make a statement that will last a lifetime. Our crocodile belts are made so well that they will be handed down for generations to come. Whether you wear it in the fields, on the golf course, or to church, it will be worn with pride.
Our sustainably sourced and humanely harvested wild leather belts are:
Made in America
Built to last out of genuine Caiman Crocodile
Are available in any size
Buckles are interchangeable via snaps
1.5 inches wide
Stitched from head to tail
We recommend that you order a dress belt that is one size larger than your pant size. For example if you wear a size 40 pant, then the size 42 dress belt will fit you perfectly.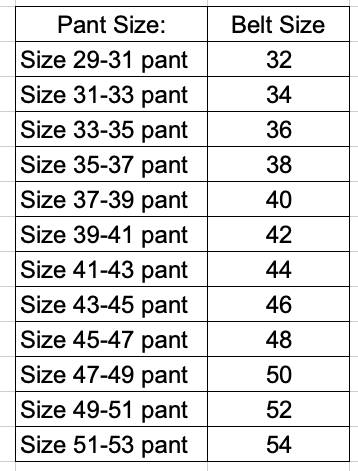 Leather with "Gentleman-like traits"
Meticulously made by hand from the finest genuine leather, our belts match the character of the courageous sportsmen we proudly serve.
Generationally Fought Over
There are few things that you'll never let go of or forget, such as memories and time-proven leather. We hope you use our soft and durable leather goods to create memories in the wild that you'll carry with you everywhere you go. Memories of times spent smoking venison or wild-hog bbq with your family and ole hunt'n buddies. Oftentimes, it's memories like these that are harder to procure than the wild hides themselves.
Coated with a non-toxic damage-resistant sealer to increase the longevity of the belt.The marine grade resistant finish provides protection against rain, sleet, and snow. You'll fall in love with this leather belt, which ages with a natural patina that will enhance with wear.
Environmentally Responsible
As stewards of the land, we share your same values for proficiently using all byproducts in humane and ethical ways. Our wild hides are sustainably sourced and humanely harvested across the country from hunters and trappers. The texture of our belts are as rich in character as the landscapes these animals are native to, and we're committed to ensuring their flourishing future.
Made with Pride in the USA
We never sacrifice quality and never mass produce - Nothing profoundly satisfying happens overnight, including our wallets. Our team of master craftsmen delicately handcraft each wallet entirely by hand. We'll choose the best hide for your unique belt and our lead time is currently 3-4 weeks. While you may think we're out fishing, we're actually meticulously perfecting your belt to ensure it provides generational satisfaction. Rest assured, we are perfectionists and your patience is well worth it, because your grandkids will enjoy this wallet as much as you did.
Field tested by Dads, Cowboys, Professional Athletes, Game Wardens, and by our nation's war heros, our collections will outlast and outperform all. Like a great hunting dog, our wallets are there when you need them. We've spent months in development by spending weeks in the duck blind, days in deer stand, and weekends on the river, all to ensure each product will withstand a lifetime of abuse.
Customizable to your specifications
The character of our collections is compounded when we customize to your specifications.