Leather OWB and IWB Holster
The Professional is a sleek durable leather outside-the-waistband holster, that will rise to the occasion when you need it. Made from hand selected genuine cowhide leather, this holster will handle any situation you find yourself in.  If you're looking for an everyday carry holster that is light weight & durable, you've found it. Over time, our holsters are enhanced with wear and form the shape of your body, for an everlasting leather investment. 
Quickly transition from OWB to IWB to carry for any occasion. Our open carry combo holsters come with attachable IWB clips for comfortable concealment.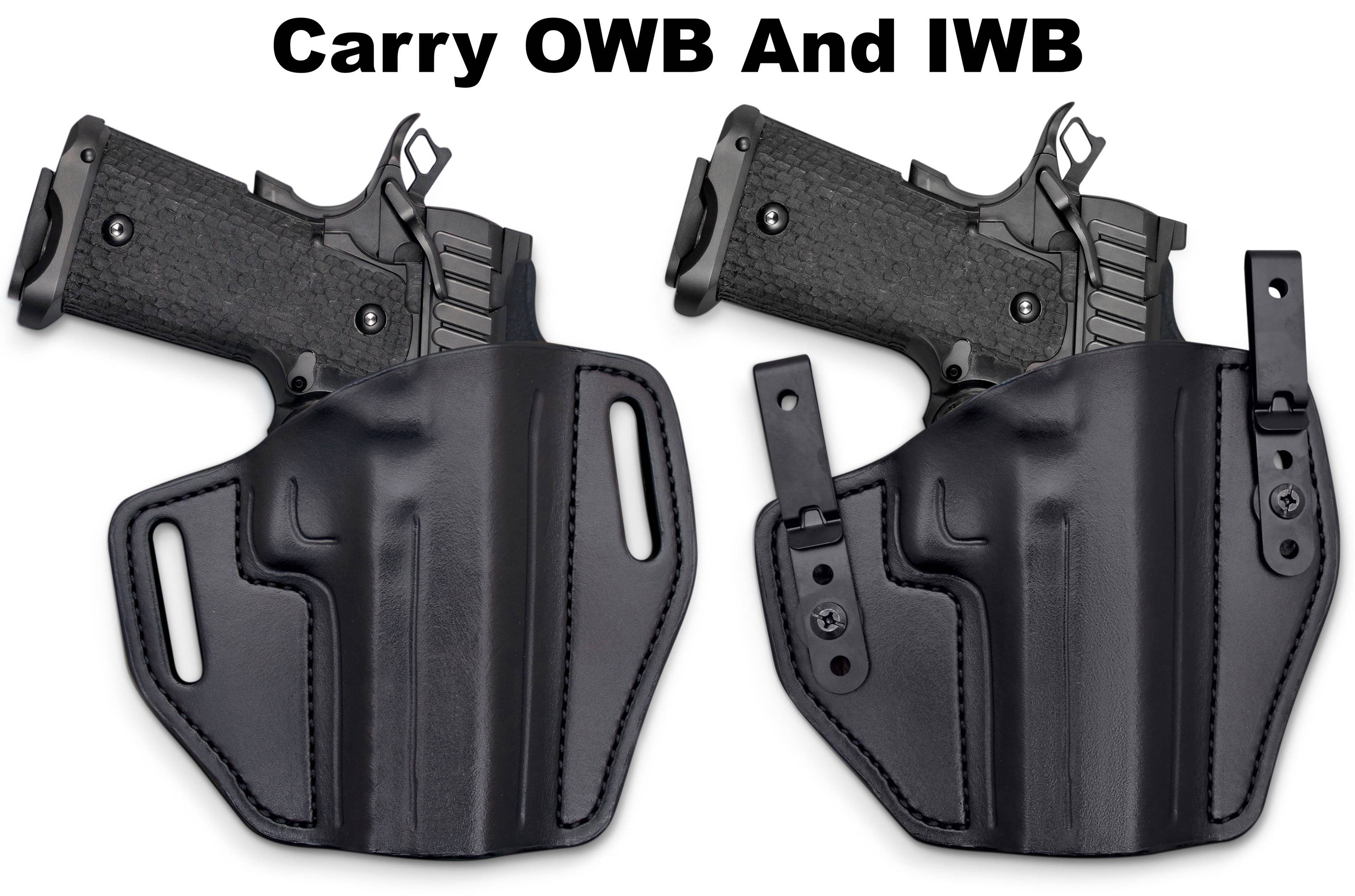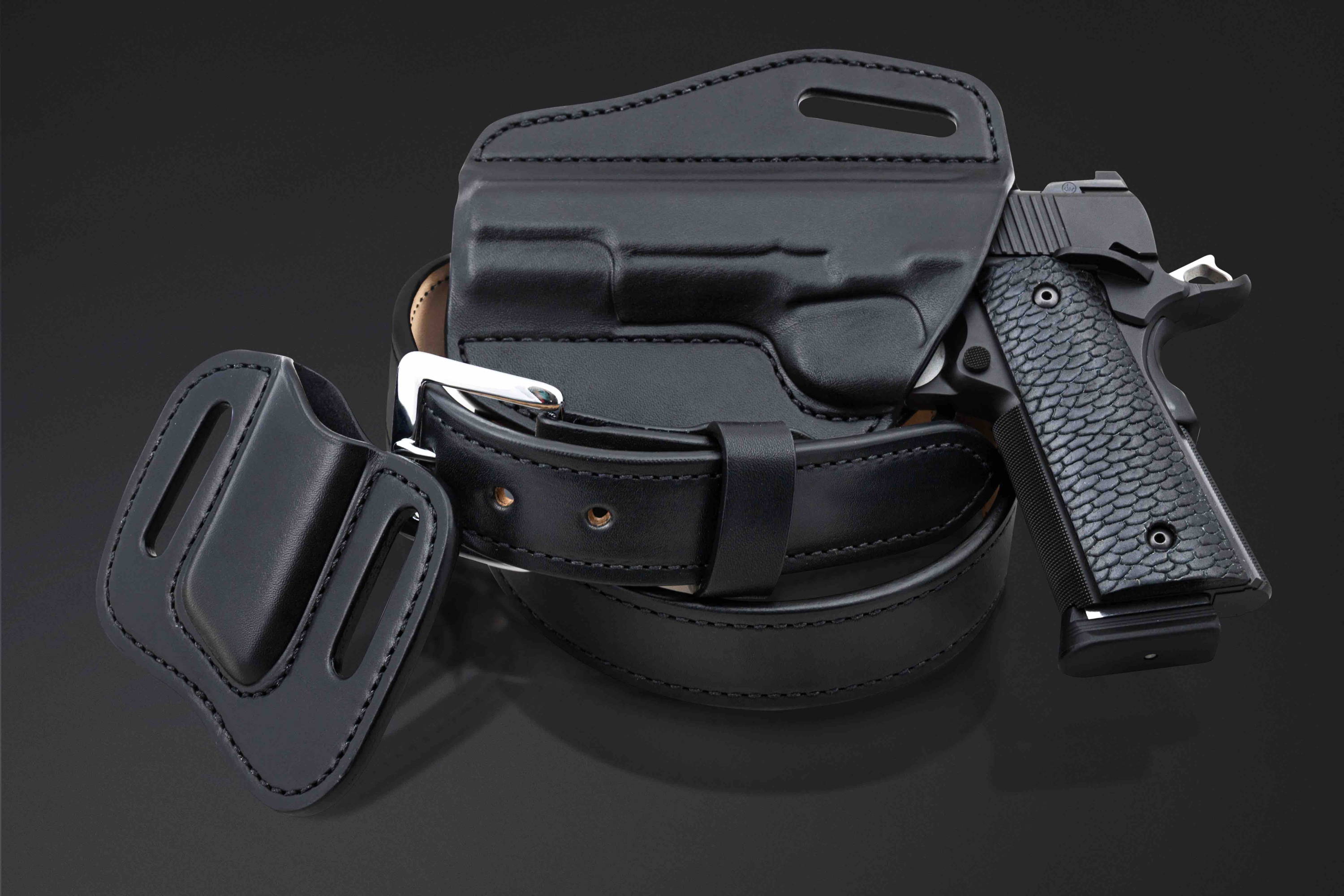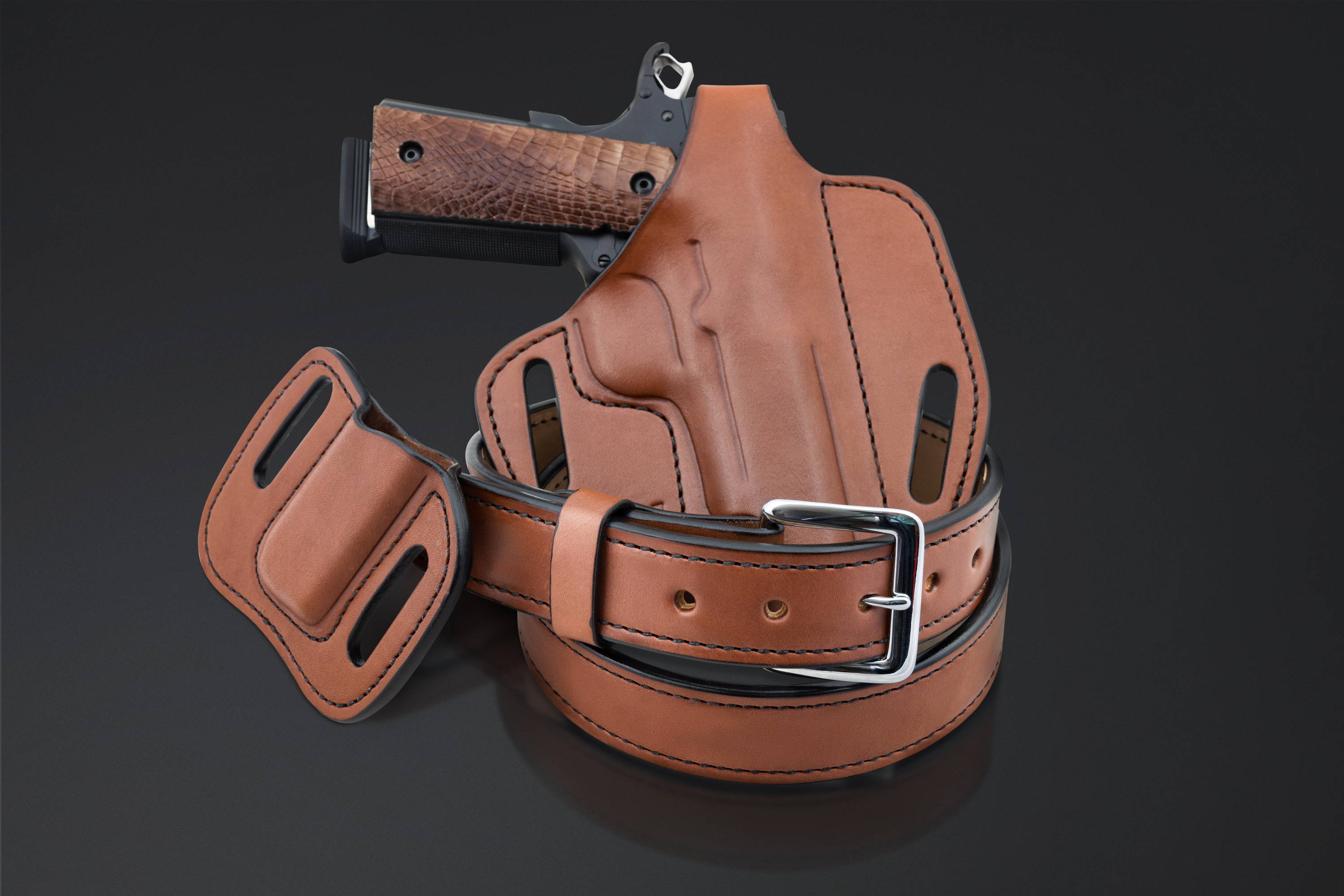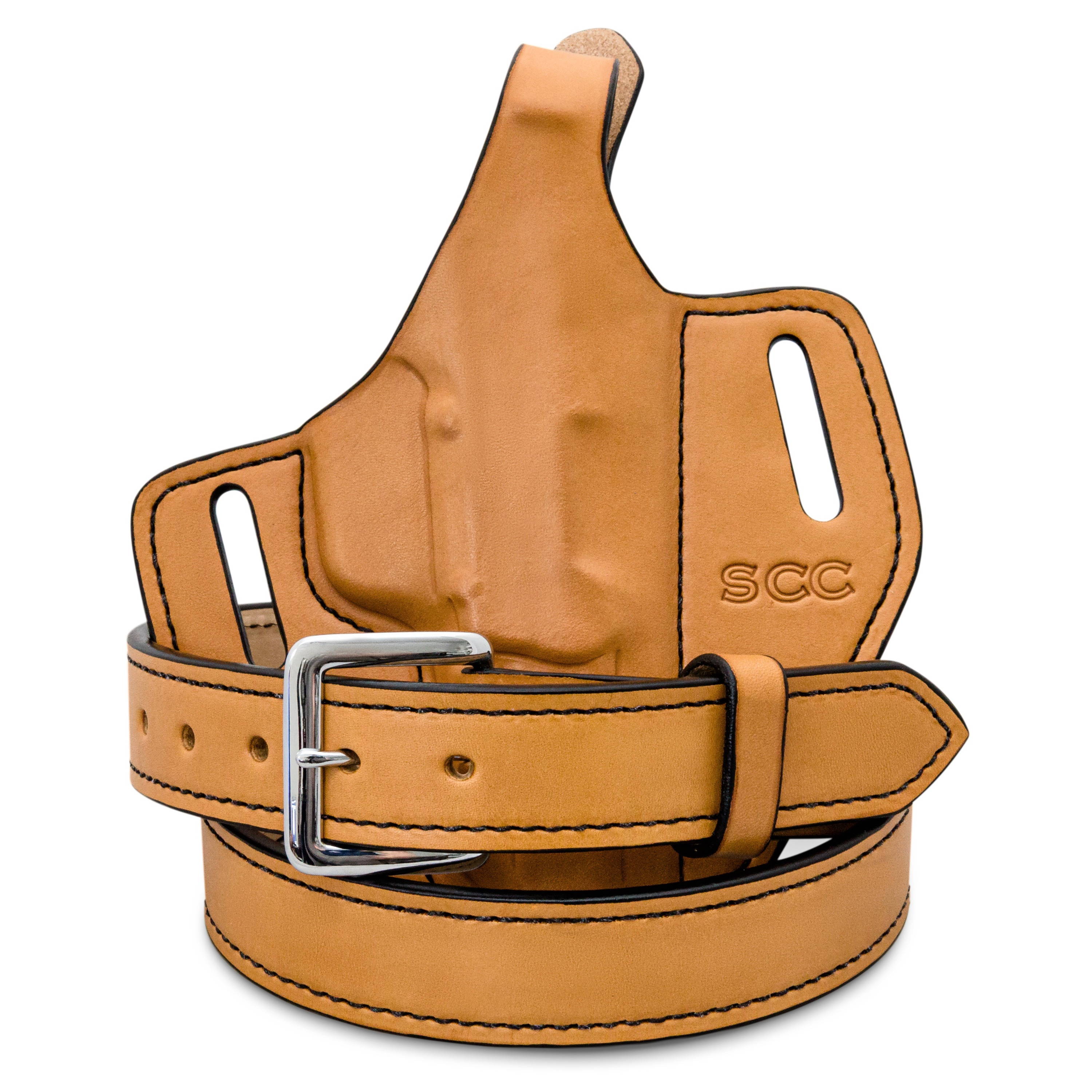 Also A Concealed Carry Holster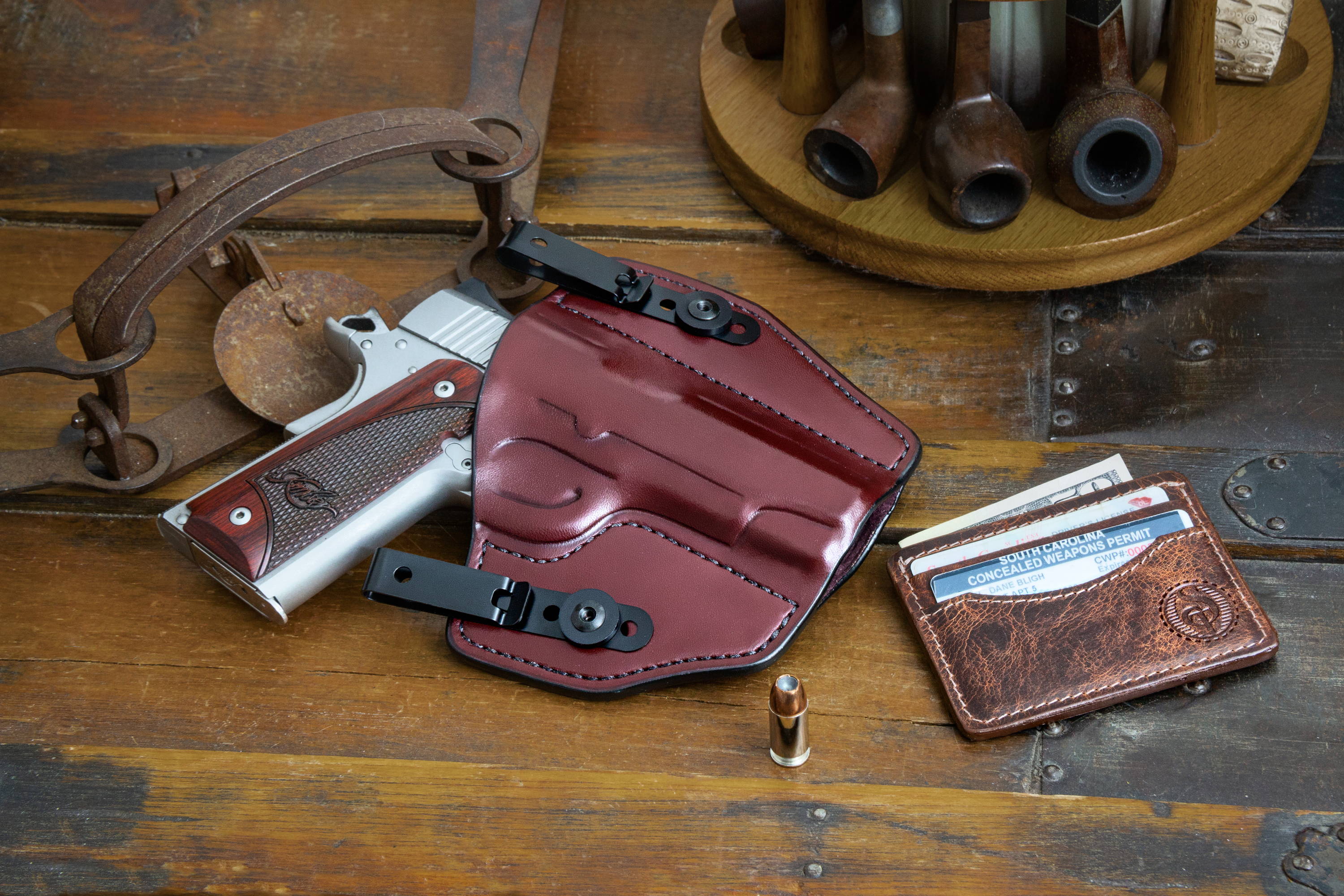 The North Pole is not the only place with a magical workshop - Discover the tale of Southern Trapper and the magical craftsmen behind it.
99.1% Customer Satisfaction
"Great Holster! The leather is of high quality, the color is perfect, and the fit for my pistol is perfect! Will be buying more holsters!"
-Mitchell of Mukwonago, WI

"I carry a full size 1911 everyday and heard about this company from a LE agent. He suggested I get one of their holsters because it fit his body well and I am glad I did. It took about 2 weeks to arrive, but it was well worth the wait because it's much more comfortable than my previous OWB holsters. Used to run galco and uncle mikes for years, but these holsters are noticeably better."
- Orlando of Myrtle Beach, SC

"Great staff, best holster I have ever bought, well done sir."
- Joseph of Philadelphia, PA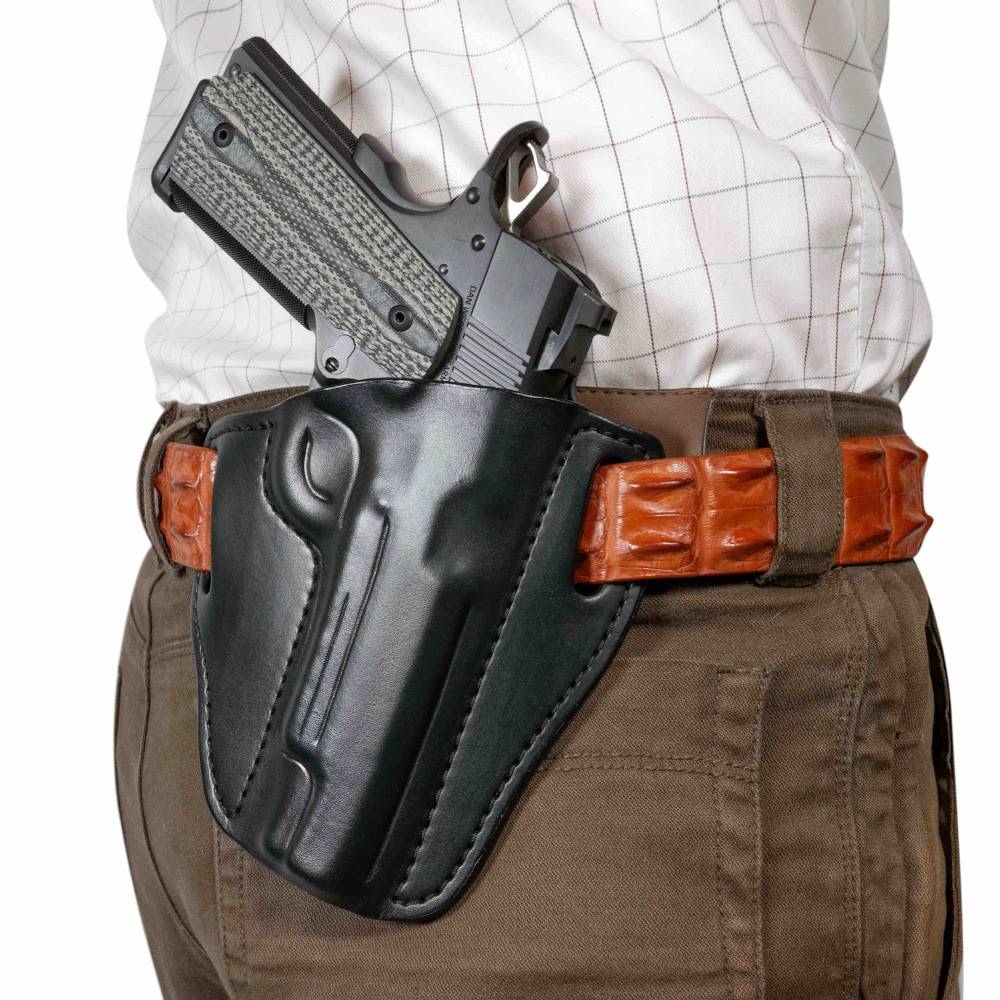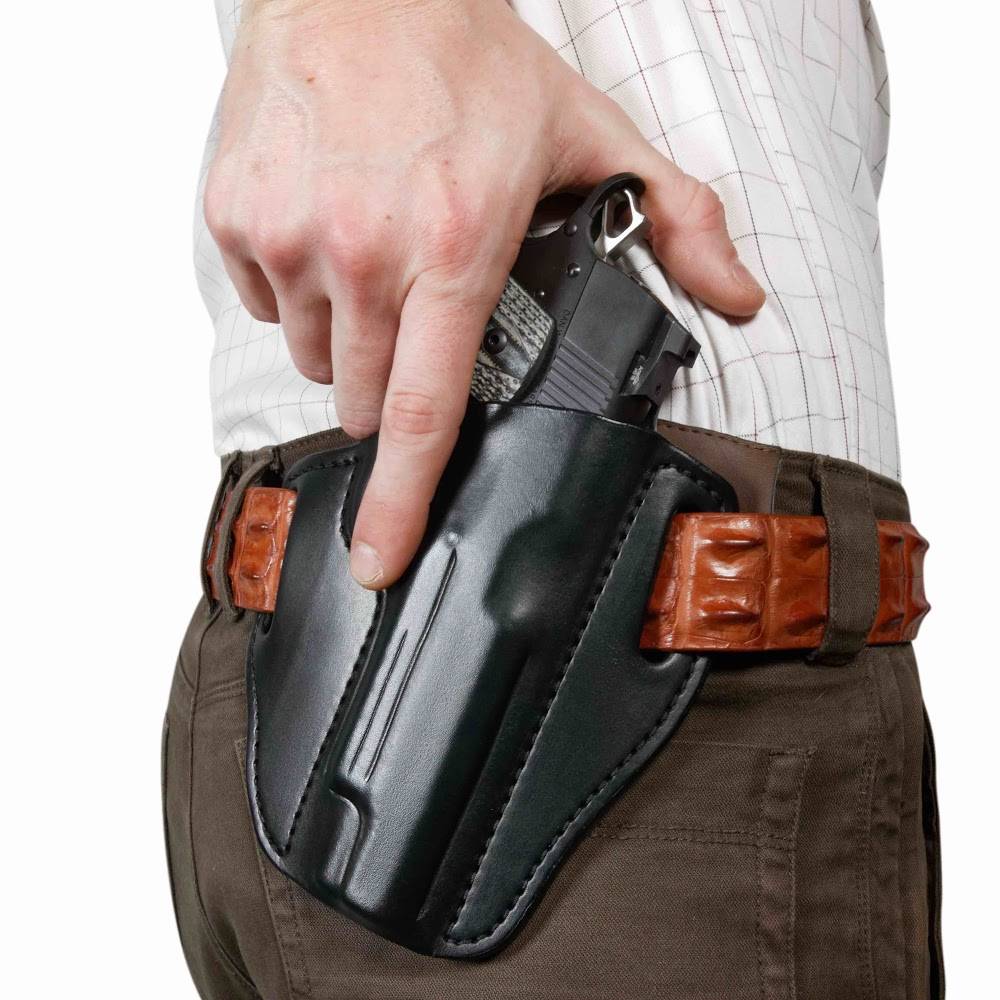 Our philosophy is simple - Exceed your expectations no matter the cost. We'll never mass-produce and we'll never sacrifice quality. Nothing will ever leave our shop unless we're certain that it will last 100-years or more. Every piece of leather is built with pride and integrity to provide a lifetime of satisfaction. We're so confident in our talented craftsmen, durable materials, and outstanding designs, that we warranty them against workmanship for 100 years.
OWB / IWB Combo Holster...
Quickly transition from outside the waistband (OWB) to inside the waistband (IWB) by attaching our metal IWB clips. The attachable metal clips are rugged and reliable, and we'll replace them if they ever fail. This hybrid concealed carry holster is perfect for IWB and OWB.
Comfortably draw and re-holster the firearm...  
Made specifically for each firearm, our holsters are individually built for each pistol, to ensure that each holster has excellent retention and fits like a glove. During the fitting process, your holster will be molded with a 5-ton hydraulic press to form the shape of your firearm - your holster will fit like a glove.  
Leather with "Gentleman-like traits"...
Our holsters are soft & strong and are ready for anything. We pride ourselves on offering undoubtedly reliable holsters that are comfortably casual, even while under pressure. The water resistant finish provides protection against rain, sleet, and snow. Our leather holsters age with a natural patina and enhance with wear.  
The reinforced opening makes it easier to re-holster the firearm under normal and stressful situations. You'll be able to safely and confidently re-holster your firearm, without the holster's mouth obstructing your access.
Wear our holsters with almost any belt of your choosing. All Southern Trapper belt slots are cut for 1.75" belts and lower, and if you need an even bigger slot give us a call at 843-501-2771 and we'll customize the holster for whichever size you need. Never struggle to find a holster for your biggest belts again.
Never sacrifice quality and never mass produce...
Nothing profoundly satisfying happens overnight, including our holsters. Our team of master craftsmen delicately handcraft each holster entirely by hand. While you may think we're out fishing, we're actually meticulously perfecting your holster to ensure it will provide generational satisfaction. Your grandchildren will enjoy it as much as you did. Our current lead time is between 11-12 weeks before your holster will ship.
Field tested by dads, cowboys, law enforcement, professional athletes, game wardens, and by our nation's war hero's, our collections will outlast and outperform all. Like a great hunting dog, our holsters are there when you need them.
The Generational Guarantee - Leave Your Children Something To Fight Over
100-Year Warranty - 
Our philosophy is simple - Exceed our customers expectations no matter the cost. We'll never mass produce, we'll never sacrifice quality, and nothing will ever leave our shop unless we're certain it will last 100 years. Every piece of leather is built with pride and integrity to provide a lifetime of satisfaction. We're so confident in our talented craftsmen, durable materials, and outstanding designs, that we warranty them against workmanship for 100 years. This warranty applies to products used responsibly. Exposure to chemicals like chlorine, detergent, or conditioners that result in a breakdown of the material or damage caused by misuse (dog chewing, water exposure, broken zippers, or road rash, etc.) will void the 100 year warranty. 
If your product does not hold up in the conditions it is supposed to, we'll fix it or replace it. If for some reason we can't fix it, we'll give you store credit. You can contact us by emailing Orders@TheSouthernTrapper.com. 
To receive our 100-Year Warranty, you must register your product with our Warranty Department within 30 days of receiving it in the mail. Click here to register your product. 
30-Day Money Back Guarantee - 
When you order a stocked item (wallet, sling, or case, ect) you'll receive a 30-day money back guarantee. If the item you receive is not what we described it as, please contact us within 30 days and as long the item is in like-new condition, we'll refund or exchange the item for you. Please contact us by email at Orders@TheSouthernTrapper.com and attach photos with your order number and describe the situation to us, and we'll get back to you quickly. To fit properly, our products require a break-in period before they will function as intended. Here are instructions on how to break in a leather holster. Non-stocked items (belt, holster, or other custom made items, etc.) cannot be exchanged, returned, or refunded for store credit. This guarantee does not cover unintentional customer mistakes, such as choosing the wrong gun, the wrong size or color, or the wrong hand orientation. 
Contact Us - Please either email us or use the contact form below if you have any questions, concerns, or comments. 
Customer Reviews
Write a Review
Ask a Question
02/10/2020
Kenneth C.
United States
Holster
Gun was a little tight in three holster but think thats just new. One of three clips fell off think it just had to be ******* back on.
02/05/2020
Michael S.
United States
New Holster
The holster came as ordered Everything was right, the gun fits snug, and it looks great.
01/28/2020
Janusz B.
Poland
Strongly recomended!!!
Brilliant quality and workmanship for a just price. Very nice, friendly and helpful service.
Love them!
Love them! Great craftsmanship and quality work. Thank you!
10/30/2019
Colin E.
United States
The Professional, STI TTI Combat master
Great overall experience! Worth the wait and money. Holster is very well built and offers great support for a full size pistol. Using the supplied IWB clips to carry my 2011 Combat Master with Tlr7 at 4 o'clock IWB. After a brief brake in period (as expected with a high quality leather product) the holster is comfortable and the draw is consitant and smooth. Also bought the matching gun belt, which I highly recommend. Great quality, good wieght distribution, and can be made to match your holster. Thanks for the great product ST.