Having crafted over 1,000 custom holsters, building custom leather holsters is one of our greatest strengths and is certainly our specialty. Each custom holster is made entirely to order for each specific firearm to ensure a perfect fit. Our process is simple, build each holster one-a-time with the highest quality materials, so that each piece is worthy of being passed down for generations. Whether you have a rare firearm, unique lasers, lights, and optics, our talented crew of craftsmen will be able to deliver a holster that is comfortable, exceptionally crafted, and a true work of art.
Summary of Features
Perfect Fit - Each holster is made for your specific firearm, including firearms that have been modified with red dot sights, lasers, lights, and threaded barrels

Dual Carry - Carry both OWB and IWB with the attachable metal IWB clips that automatically come with the holster

Secure - Sewn extra tight to provide excellent retention

Comfortable - Full size sweat guard provides comfort and prevents the transfer of moisture from your body to the firearm

Smooth Draw - Built with a standard 15 degree cant forward cant (angle)

Protects your firearm - Made from smooth leather to protect the finish on your firearm

Optional suede upgrade - Upgrade the interior of your holster to suede to provide additional protection to your firearm's finish

Full Coverage - Each holster will fully cover the trigger guard and barrel, your firearm will not stick out of the bottom
How To Order A Custom Holster
Please follow this guide while ordering your custom holster. We will promptly call you to confirm the details of your order. You can also call us at 843-501-2771 to place an order over the phone.
Step 1) Choose your firearm manufacturer, model number, and any modifications (lights/lasers/red dots) from the drop down menu above.
Step 2) Choose how you would like to carry the holster, as an outside-the-waistband or inside-the-waistband or dual carry (has belt slots for OWB and comes with IWB clips that attached to belt slots)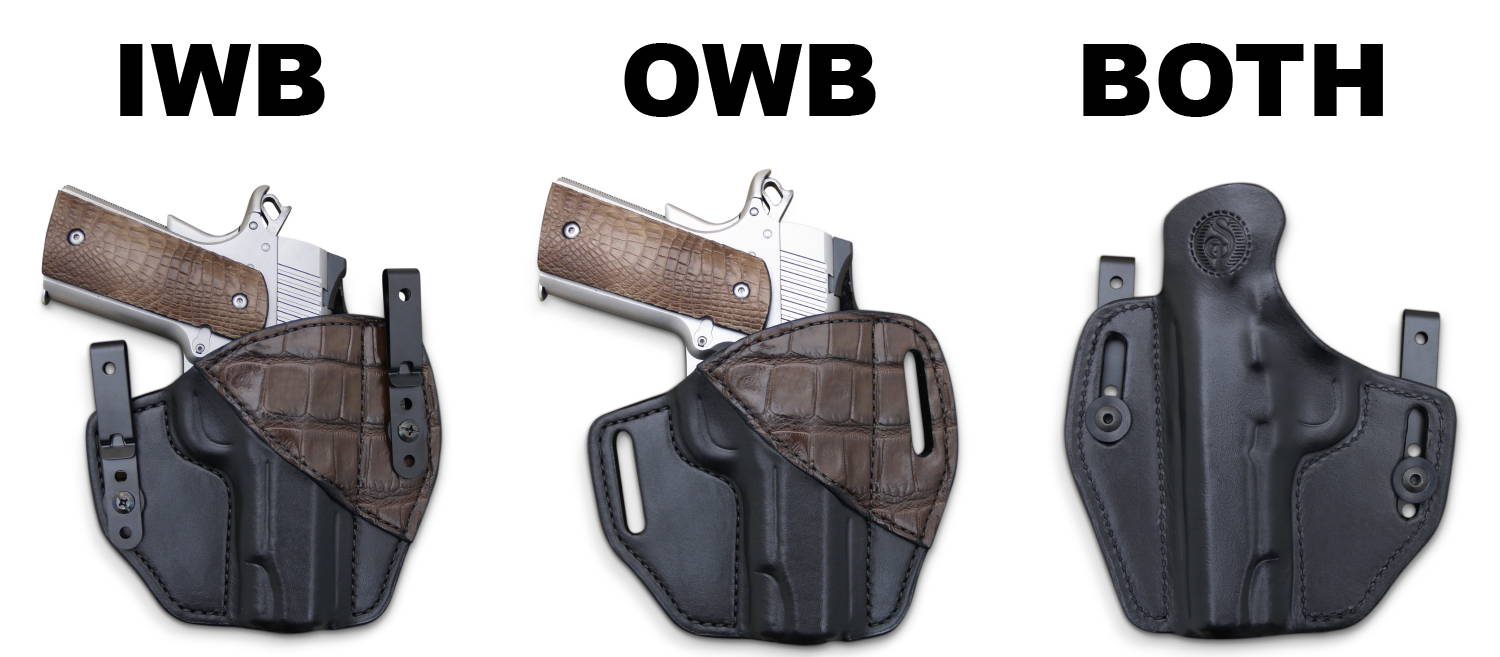 Step 3) Choose the style of holster. A taco style holster is made one piece of leather that is sewn together. A pancake style holster is made from two pieces of leather that are sewn together.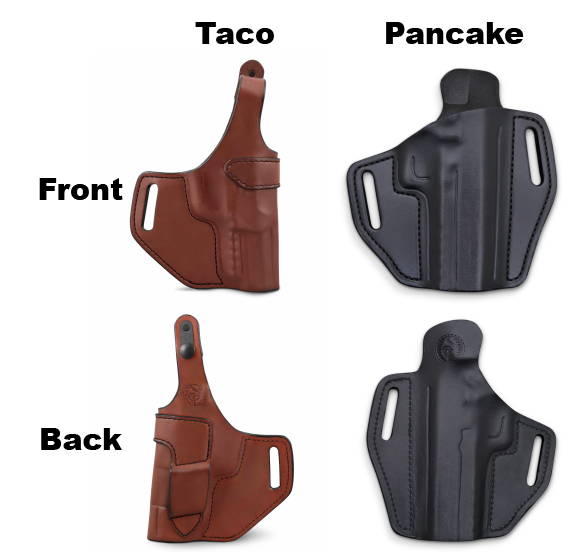 Step 4) Choose how you would like the holster to attach to your belt.
Belt Slide - Your belt will be fed through the belt slots. Our belt slots are cut to 1.75", so that they will fit a 1.5" gun belt.
Metal Clips - The holster will clip onto your belt with one (or more) reinforced metal clips. Our metal clips are made for 1.5" gun belts and are very durable. The "tooth" on the the clip will secure the belt to the holster and will not damage your belt.
Leather Snap - Our leather snaps are made to match the holster and your belt, which naturally camouflages the holster snaps on your belt for ultimate concealment.
Paddle - Our plastic paddles are lightweight and comfortable and are made for 1.5" gun belts.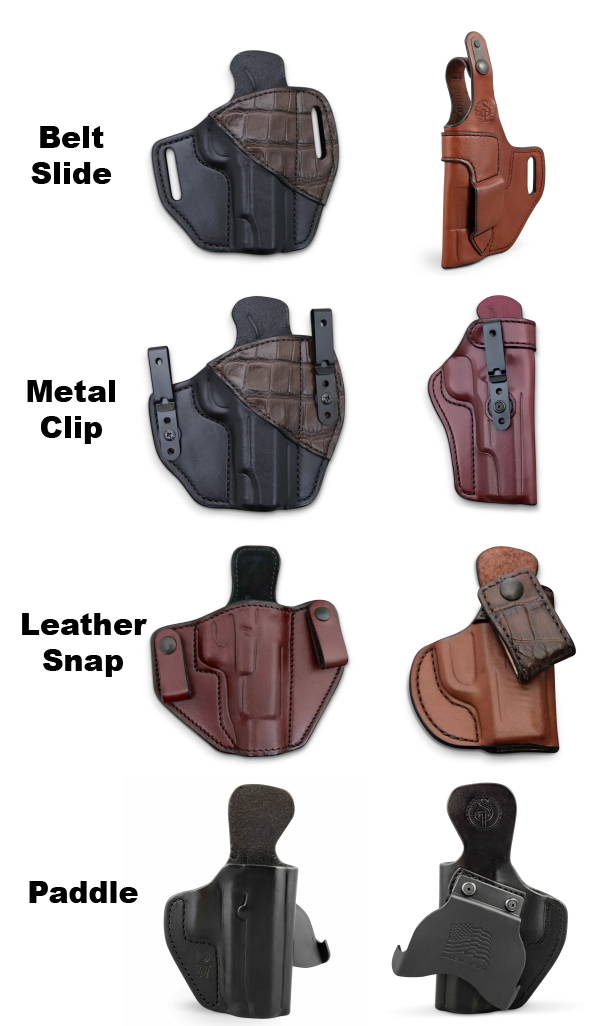 Step 4) Carry Position and Dominant Hand- Choose how you would to carry the holster on your belt and whether you shoot right handed or left handed.
Dominant Side - Also known as strong side carry, is where you carry the firearm on the same hip as you dominant hand. If you are right handed, your holster will be on your right hip.
Appendix - This is the most common concealed carry position, and is where you carry the firearm near your belly button.
Cross Draw - This is where you use your dominant hand to reach across your body to draw the firearm. If you are right hand dominant, the holster will be on the left side of your body.
Back - This is position is generally between 4:00 and 8:00 o'clock on your back. You can carry it anywhere between your hips.
Step 5) Choose type of leather. We have a wide range of types of leather to choose from. All of our exotic leather is dyed to order and we will call to confirm the colors that you would like.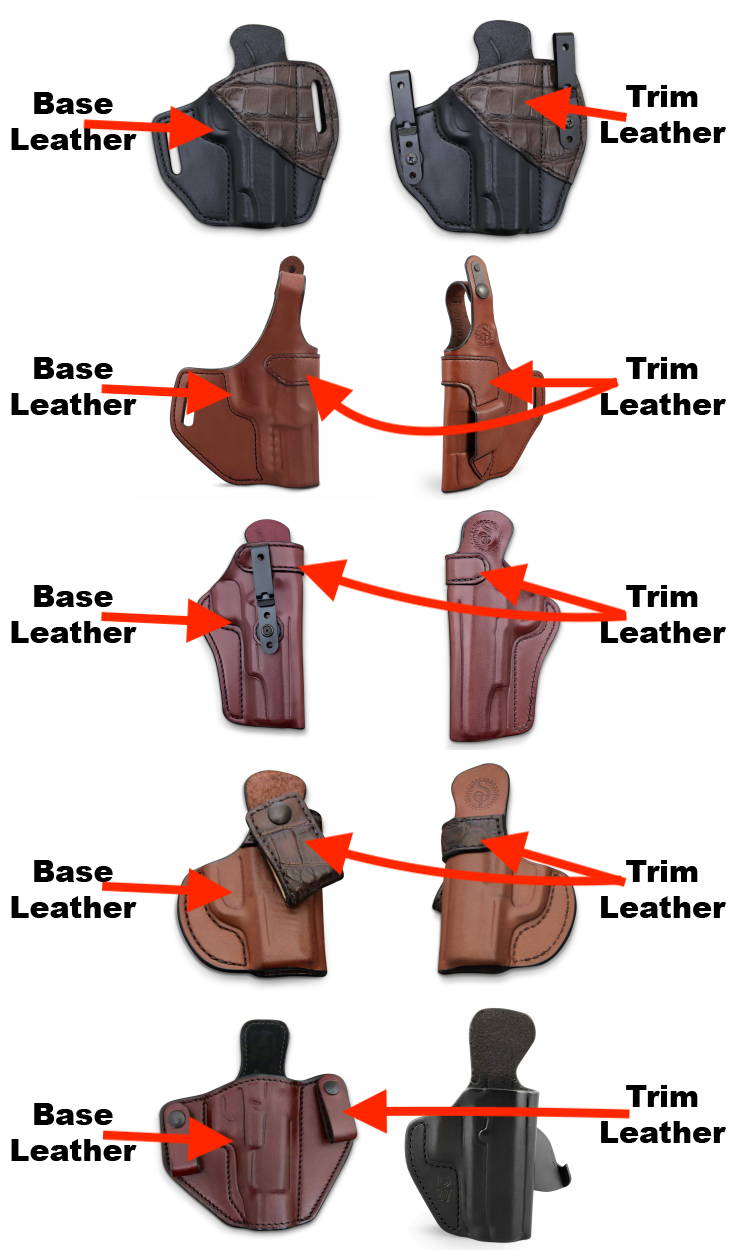 Step 6) Choose if you would like a thumb break. A thumb break is the snap that covers the slide/hammer of the firearm, which prevents the firearm from being removed from the holster, when the snap is engaged. Each holster is made to be very snug, and a thumb break is not necessary, but is recommend if holster will be worn while riding ATV's/horseback, or other related activities. We can make the thumb break for either locked & cocked or hammer-down positions.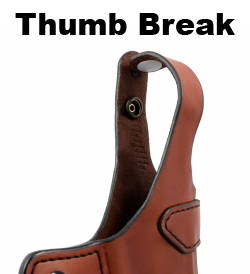 Step 7) Choose thread color - Available in a range of colors.
Step 8) Choose if you would like the holster to be lined with soft cow suede. Our unlined holsters have been resurfaced and slicked to provide a smoother surface than traditional rawhide leather. Upgrading to suede is not required, but the suede lining is technically softer. All of our leather holsters are made from vegetable tanned leather, so there are no chromium chemicals that would remove the finish from your firearm.
Will you call me to confirm my order before you being making it?
Yes, We will call you within 48 hours to confirm all of the details of your order, so that you will have the opportunity to make changes, choose your colors, or cancel your order.
What colors can I choose from and how do I choose them?
We custom dye all of our leather, so we can choose any color. Our craftsmen will call you to confirm the colors and we will provide you with color options during our phone call.
Can you make a holster for a laser/light/red dot sight?
Yes. We will be able to make a holster for your firearm that has a laser/light/red dot sight.
My firearm/laser/light is not on your list, will you be able to make a holster for it?
Most likely yes. New models are released every month and we try to update our drop down menus as frequently as possible. If you have a very rare/unique laser/light, we will still be able to make a holster if you send it to us. If it turns out that we cannot make a holster for your firearm, we will promptly provide you with a full refund.
Can I order a matching belt, mag holder, gun grip or shoulder holster?
Yes. We will be able to make a matching belt, mag holder (single or double), gun grip, or shoulder holster. The price will depend on the type of leather and other customizations. After you place your order, our craftsmen will call to confirm the details and will ask you if you would like to add anything else to your order.
Do I need to send you my firearm to make the custom holster?
No. We use replica gun molds to make our holsters.
What is the lead time for a custom holster? How long after placing an order will it take until I receive it?
Our current lead time for custom holsters is about 4-6 weeks, depending on how complex the holster is.
What is the best type of holster for me?
Our craftsmen will speak with you about how you plan on carrying your firearm and we will help you determine what type of holster is best for you.
Can I choose the angle (cant) of the belt slots?
Yes, we can make the belt slots at any angle. Generally we recommend a 15-degree forward cant. We will confirm these details during our phone call.
Are the metal clips adjustable?
Yes, the metal clips are adjustable. You can adjust the clips for height and angle.
If I lose one of the metal clips or hardware, will you replace it?
Yes, we can replace any lost clips or hardware.
How much retention will the holster have?
All of our holsters are made for each specific firearm and will be made very snug. Your firearm will not wiggle around in the holster. You will be able to adjust the amount of retention by breaking in the holster. We provide break-in instructions with all of our holsters.
Can I remove my thumb break or add a thumb break later?
No. After the holster is made, it cannot be modified to remove or add the thumb break.
If I do not choose to line my holster with suede, will the holster scratch the finish off of my firearm?
No. Our holsters are made from vegetable tan cowhide leather that has been resurfaced and slicked to be smooth. The suede lining is softer, but our unlined holsters will still protect the firearm's finish.
What happens if the holster does not fit?
When a holster does not initially fit, it is almost always because it has not been broken in yet. Our holsters are made from genuine leather, and require a break-in period, just like a new baseball mitt. If the holster is too tight after breaking in, we can stretch the holster at no additional cost. If the holster does not fit the firearm after being broken in and stretched, we will remake the holster at no additional cost.
What is your return policy?
Our craftsmen do their best to build each holster to your specific requests. We do not carry an inventory of custom holsters, therefore we will not be able to accept a custom holster as a return. However, we will work with you to resolve the situation on a case-by-case basis.
How will you ship my order?
We offer complimentary USPS shipping, but you can also pay for for UPS delivery as well.
Will I receive a notification when my order ships?
Yes. You will receive an email or text message with the tracking number when your order ships.
Can I send you my rare gun so that you can make a holster for it?
No. We use replica gun molds to make our holsters and we do not need you to send us your gun. We will use a two ton press to mold your holster, which could bend the barrel or frame of your firearm. Therefore, we will not allow you to send us your firearm.
If I already own a holster that I like, will you be able to recreate it?
Most likely yes. Please email us photos of your holster to Orders@TheSouthernTrapper.com
We understand that there may be circumstances where you want to return a product. If you would like to return a product, simply contact our customer care department (Orders@TheSouthernTrapper.com) within 30 days of the ship date of your order. All returns are subject to the conditions listed here. In summary, products that are customized with initials, lights, lasers, and red dot sights are non-refundable. If there is an issue with how the holster fits, we will work with you by fixing or remaking the holster for you.
Thanks!
This field is required
This field is required
This field is required
This field is required
The Generational Guarantee - Leave Your Children Something To Fight Over
100-Year Warranty - 
Our philosophy is simple - Exceed our customers expectations no matter the cost. We'll never mass produce, we'll never sacrifice quality, and nothing will ever leave our shop unless we're certain it will last 100 years. Every piece of leather is built with pride and integrity to provide a lifetime of satisfaction. We're so confident in our talented craftsmen, durable materials, and outstanding designs, that we warranty them against workmanship for 100 years. This warranty applies to products used responsibly. Exposure to chemicals like chlorine, detergent, or conditioners that result in a breakdown of the material or damage caused by misuse (dog chewing, water exposure, broken zippers, or road rash, etc.) will void the 100 year warranty. 
If your product does not hold up in the conditions it is supposed to, we'll fix it or replace it. If for some reason we can't fix it, we'll give you store credit. You can contact us by emailing Orders@TheSouthernTrapper.com. 
To receive our 100-Year Warranty, you must register your product with our Warranty Department within 30 days of receiving it in the mail. Click here to register your product. 
30-Day Money Back Guarantee - 
When you order a product that has NOT been customized with initials, laser/light/red dot sights, or different colors, you'll receive a 30-day money back guarantee. If the item you receive is not what we described it as, please contact us within 30 days and as long the item is in like-new condition, we'll refund or exchange the item for you. Please contact us by email at Hello@TheSouthernTrapper.com and attach photos with your order number and describe the situation to us, and we'll get back to you quickly. To fit properly, our products require a break-in period before they will function as intended. Here are instructions on how to break in a leather holster. Items that have been customized or custom made cannot be exchanged, returned, or refunded for store credit. Examples of "customized" orders includes: products that have been customized with initials, embossments, lights, lasers, red dot sights and other available customizations. This guarantee does not cover unintentional customer mistakes, such as choosing the wrong gun, the wrong size or color, or the wrong hand orientation. 
Contact Us - Please either email us or use the contact form below if you have any questions, concerns, or comments. 
Customer Reviews
Write a Review
Ask a Question
Repeat Customer
Perfect fit, beautiful workmanship. Exactly what I have come to expect.
10/14/2021
Adam

United States
Quality
Great customer service. Quality product. Well worth the price
07/06/2021
Glenn J.

United States
Custom Holster for Browning Black Beauty w Laser
The holster is a perfect fit. The workmanship is perfect. It fit exactly the way I wanted for a cross draw holster. The finish is beautiful. I could not be more pleased with the product, the customer service, or the overall transaction.
06/05/2021
Herman R.

United States
Custom holster
The holster is hands down immaculate, great fit to my Sig P320 XFive Legion couldn't ask for better. Would have gave it 5 stars but my initials where wrong. So I'm sending it back with no problems asked to get fixed. Besides that I love it best leather holster I have had. Well made and thick and hard to break in cause the material is great.