Our alligator belts are handmade with pride in the USA from the very best materials. There is nothing special about buying a mass-produced belt, which is why our Master Leathermen make each belt entirely by hand. When you order a belt, you will work directly with our Chief Happiness Officer, who will be your best friend at our workshop. His sole purpose is to make sure that our work exceeds your expectations and that it fits you perfectly.
Our process for making alligator belts is unique, which is why you won't find an alligator belt like ours in stores. All of our alligator belts are made from genuine alligator skins, which are hand selected by our company founder, Capt Bligh. He works directly with the tannery to ensure that each alligator skin meets his quality standards. Our in-house Picasso creates unique dye formulas and hand paints each alligator skin. Our Master Leathermen inspect every centimeter of material and cut each piece to size to fit your waist size perfectly. Up close, you will see that every stitch falls perfectly in line, like soldiers marching into war. Lastly, every edge is beveled, sanded, and edge painted to perfection. Before anything leaves our shop, it is inspected by our Chief Happiness Officer to ensure that it represents our very best work.
You will not find this level of integrity, craftsmanship, and quality in any other belt because it is unbelievably time consuming and expensive. We are unlikely our greedy competitors who choose to use inexpensive materials and produce their belts as quickly as possible. We do not chase profits, we chase perfection.
When you choose Southern Trapper, you are not buying "just a belt". You are choosing to make a statement that will last a lifetime. Our alligator belts are made so well that they will be handed down for generations to come. Whether you wear it in the fields, on the golf course, or to church, it will be worn with pride.
Our sustainably sourced and humanely harvested wild leather belts are:
Made in America

Built to last out of hand wrestled Alligator

Are available in any size

Buckles are interchangeable via snaps

1.0", 1.25", or 1.5" wide

Stitched from head to tail  
We recommend that you order a dress belt that is one size larger than your pant size. For example if you wear a size 40 pant, then the size 42 dress belt will fit you perfectly.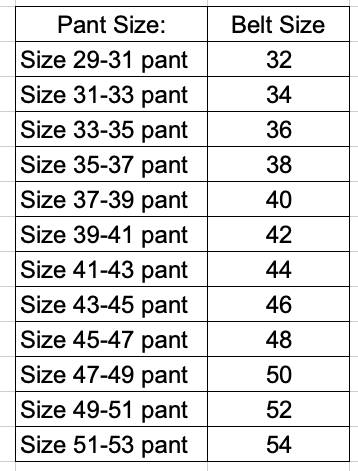 The Generational Guarantee - Leave Your Children Something To Fight Over
100-Year Warranty - 
Our philosophy is simple - Exceed our customers expectations no matter the cost. We'll never mass produce, we'll never sacrifice quality, and nothing will ever leave our shop unless we're certain it will last 100 years. Every piece of leather is built with pride and integrity to provide a lifetime of satisfaction. We're so confident in our talented craftsmen, durable materials, and outstanding designs, that we warranty them against workmanship for 100 years. This warranty applies to products used responsibly. Exposure to chemicals like chlorine, detergent, or conditioners that result in a breakdown of the material or damage caused by misuse (dog chewing, water exposure, broken zippers, or road rash, etc.) will void the 100 year warranty. 
If your product does not hold up in the conditions it is supposed to, we'll fix it or replace it. If for some reason we can't fix it, we'll give you store credit. You can contact us by emailing Orders@TheSouthernTrapper.com. 
To receive our 100-Year Warranty, you must register your product with our Warranty Department within 30 days of receiving it in the mail. Click here to register your product. 
30-Day Money Back Guarantee - 
When you order a stocked item (wallet, sling, or case, ect) you'll receive a 30-day money back guarantee. If the item you receive is not what we described it as, please contact us within 30 days and as long the item is in like-new condition, we'll refund or exchange the item for you. Please contact us by email at Orders@TheSouthernTrapper.com and attach photos with your order number and describe the situation to us, and we'll get back to you quickly. To fit properly, our products require a break-in period before they will function as intended. Here are instructions on how to break in a leather holster. Non-stocked items (belt, holster, or other custom made items, etc.) cannot be exchanged, returned, or refunded for store credit. This guarantee does not cover unintentional customer mistakes, such as choosing the wrong gun, the wrong size or color, or the wrong hand orientation. 
Contact Us - Please either email us or use the contact form below if you have any questions, concerns, or comments.