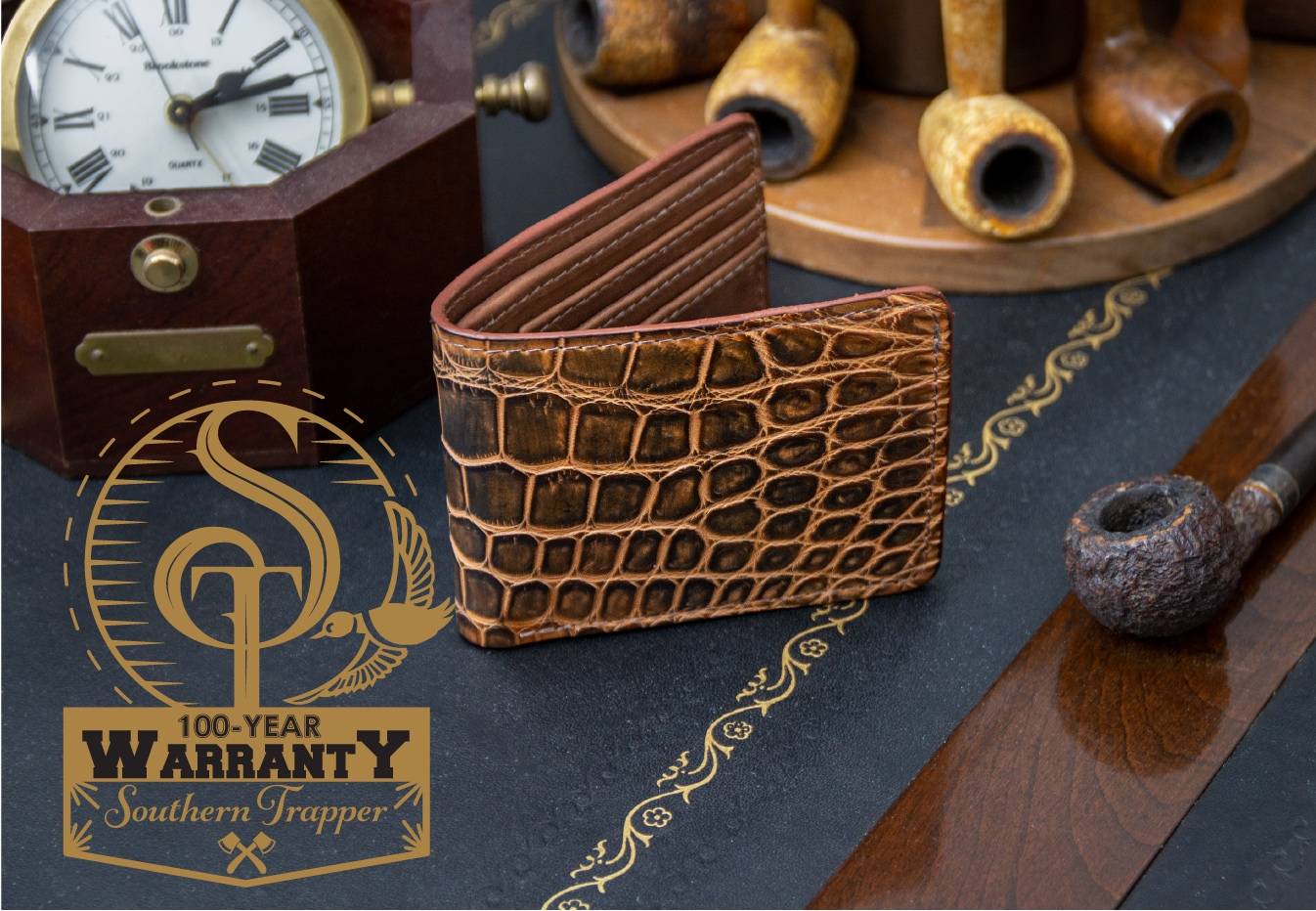 Yoder Leather Trade In Program
Are you unhappy with the wallet that you purchased from Yoder Leather? Are you upset that you can't return your Yoder Leather wallet? Do not worry, we're on your side and we're here to help.
If you have previously purchased a Yoder Leather wallet and you are unhappy with it for ANY reason, you can trade that wallet in for one of alligator wallets. Here's how the program works:
Step 1) Complete the contact form below to submit a request to receive more information about our program or to receive a free alligator leather sample booklet.
Step 2) One of our friendly members of our team will contact you to determine which Yoder wallet you would like to exchange and will answer any questions you may have. With your permission, we will ship you a free sample booklet of our alligator leather along with a prepaid return label, so that you can send the Yoder wallet to us.
Step 3) We will contact you when we receive your Yoder wallet. We will apply a credit for the full retail value of your wallet, towards the Southern Trapper wallet of your choice. Here's an example - You send us a wallet that you paid $99 for and we will apply a $99 credit towards our $125 wallet, leaving you a $25 balance due.
Step 4) We will collect the payment for the remaining balance and we will ship your new Southern Trapper wallet to you for free!
FAQ's About Our Program
Q: Can I trade in any wallet that I bought from Yoder?
A: Yes, we will accept trade-ins for any wallet you bought from Yoder. The type of wallet and the type of leather does not matter, we will accept your trade in.
Q: If I trade in an elephant wallet, can I receive an elephant wallet?
A: No, you can only trade in your yoder wallet for a wallet that is on our website.
Q: Where can I find Southern Trapper wallets?
A: Here is a link to our wallets.
Q: Can I trade in a Yoder leather wallet for a custom leather wallet?
A: No, we do not make custom wallets.
Q: What is your return policy?
A: We have a 30-day money back guarantee. If you are unhappy with the Southern Trapper wallet for any reason, you can ship the wallet back to us for a full refund and we will send you the Yoder wallet back to you.
Q: Do you have a warranty on your wallets?
A: Yes, we have a 100-year warranty on our wallets. This wallet covers craftsmanship (thread, glue etc) and leather (if the leather ever begins to fall apart, which will never happen).
Q: Can I personalize the Southern Trapper wallet that I choose?
A: Yes, we will personalize the Southern Trapper wallet by adding your initials.
Q: How long does it take from start to finish?
A: Generally this process will take 7-10 days.
Q: What if I bought my Yoder wallet on amazon?
A: We will accept trade-ins for yoder wallets wherever you purchased them.
Q: Why do you offer this program?
A: We offer this trade-in program because we want to EARN your trust and business.
Q: Can I call you to learn more?
Y: You can call us anytime. Our phone number is 843-501-2771.  
Hear What Our Customer Have To Say
---
Thanks!
This field is required
This field is required
This field is required
This field is required
This field is required
---